The Tenach (Old Testament) names God as the one and only true God (one, not three), see for example.
Deuteronomy 6:4 —
Hear, O Israel: The LORD our God is one LORD:
Hear, O Israel: The LORD thy God is one LORD.
2 Samuel 7:22 —
Wherefore thou art great, O LORD God; for there is none like thee, neither is there any God beside thee, according to all that we have heard with our ears.
Isaiah 46:9 —
For I am God, and there is none else; I am God, and there is none like me.
1 Corinthians 8:6 - But to us there is but one God, the Father, of whom are all things, and we in him; and one Lord Jesus Christ, by whom are all things, and we by him.
There was some resistance against adopting the Trinity into Christianity. Three versions were debated, until the present one was voted into existence by the powers that rule over the church.
Before Jesus there were several religions that followed a Trinity as the highest:
https://www.ucg.org/bible-study-tools/b ... ion-of-the
In Egypt "The Hymn to Amun" decreed that "No god came into being before him" and that "All gods are three: Amun, Re and Ptah".
In Germanic nations the 3 Gods were Wodan, Thor and Fricco.
In India Hinduism was already founded more than 3,000 years ago. The 3 Gods – Brahma, Vishnu and Shiva - form a Trinity (I once asked a Hindu, who told me that they can be compared to the three in one God of Christanity). See the picture of the 3 Gods, even the halo around their heads was copied by Christianity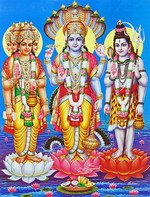 The Holy Ghost (Holy Spirit) isn't in the Tenach but first appears in the New Testament. The most interesting appearance of the Holy Ghost, is where Mary is "found" with his child.
Matthew 1:18 -
Now the birth of Jesus Christ was on this wise: When as his mother Mary was espoused to Joseph, before they came together, she was found with child of the Holy Ghost.
Jesus Christ named the Trinity - Father, Word, Holy Ghost; Father, Son, Holy Ghost; Spirit, water, blood - as three parts of the same God…
1 John 5:7-8 -
For there are three that bear record in heaven, the Father, the Word, and the Holy Ghost: and these three are one.
And there are three that bear witness in earth, the Spirit, and the water, and the blood: and these three agree in one.
Matthew 28:19 -
Go ye therefore, and teach all nations, baptizing them in the name of the Father, and of the Son, and of the Holy Ghost:
The fact that Jesus Christ was teaching about a Trinity indicates that he preferred other religions over the Tenach.
Here are some numerological arguments to illustrate that the Trinity, triangle is really Satanic.
The Babylonians believed in a Trinity, and used the sexagesimal (60) number system from which comes 60 minutes in an hour, 60 seconds in a minute, 360 (60×6) degrees in a circle and 60 degrees in each angle of an equilateral triangle and so on. 360 divided by 10 = 36; 6 * 6 = 36; 2 * 3 = 6.
An even triangle has 3 corners of 60 degrees, 60, 60, 60 representing 666.
The numbers from 1 to 36 total 666 like this: 1 + 2 + 3 + 4 + 5 + 6 + 7 + 8 + 9 + 10 + 11 + 12 + 13 + 14 + 15 + 16 + 17 + 18 + 19 + 20 + 21 + 22 + 23 + 24 + 25 + 26 + 27 + 28 + 29 + 30 + 31 + 32 + 33 + 34 + 35 + 36 = 666
In witchcraft also a Trinity symbol is used, see for example these wiccan chalices.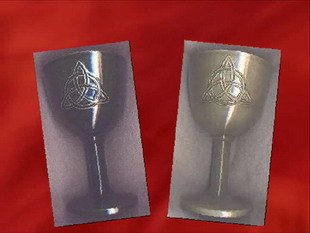 The same (satanic) symbol is even on some editions of the New King James Bible and the New International Version of the Bible.