Firestarter wrote:

Firestarter wrote:

Firestarter wrote:I found an interesting book that describes the "War

by

drugs"- Peter Dale Scott "

Drugs, Oil, and War: The United States in Afghanistan, Columbia, and Indochina

" (2003):

https://ourrebellion.files.wordpress.co ... -china.pdf

It is 16 GB to download (I've saved it as a text document at 0.5 GB)…

My very short summary of the Peter Dale Scott book is that drugs are used to fund wars for oil.

I found another interesting book on this topic - John Coleman "Drug War Against America":

http://www.mediafire.com/file/1kr78cnlk ... 646377.pdf

I've found another good book about the CIA's involvement in cocaine trafficking in which Nicaragua's Contras (Fuerza Democratica Nigaraguense, FDN) were used and financed.

It shows that the whole Iran-Contra affair was a cover-up of the ugly truth that the CIA was making the crack epidemic of the 1980s happen, and used the proceeds to finance the Contras in Nicaragua. Also some other Latin American countries were involved (notably the Panama of Dictator Manuel Noriega).

Gary Webb "Dark alliance - The CIA, the CONTRAS, and the CRACK

COCAINE EXPLOSION" (1998):

http://www.mediafire.com/file/kdayngc76 ... 953236.pdf
I've found another book on the drugs for arms pipeline centred in the Arkansas of Governor Bill Clinton - Terry Reed & John Cummings "
Compromised: Clinton, Bush and the CIA
" (1994):
http://survivorbb.rapeutation.com/viewt ... 218&t=2785
This book is different from the other books about drugs trafficking in this thread. It's sort of a personal story about Terry Reed, who was part of the drugs for arms pipeline involving the Contras, without even knowing the drugs part.
This book is (almost) impossible to find on the internet. The previous link has some short sections inserted that are not part of this book (I estimate this is less than 1% of the total text there).
On 24 February 1982, in Oklahoma City; Terry Reed first met Oliver North (who used the name John Cathey at the time). At that time Reed could contact North through the FBI. Reed frequently met North.
Only in 1987, when Iran-Contra hit the press, Reed found out that "John Cathey" was really Oliver North.
On 11 March 1983, North proposed Reed to meet Barry Seal (Adler Berriman Seal) so he could help in supplying guns to the Contras. Shortly thereafter Dan Lasater introduced Seal to Reed.
One of the first tasks for Reed in working for Seal was to make sure that no FAA regulations were violated for the airport they set up near Nella, about 12 miles from Mena, Arkansas (population 5000) which was only accessible by four-wheel drives.
The airport was first used to train Contra pilots in air-delivery techniques for the Contra Air Force.
When the airport became fully operational; weapons were delivered by "special barge traffic" over the Arkansas River to Nella and protected by the US Army Corps of engineers. The arms were temporarily stored there and flown to the Contras.
Cash and drugs were dropped in Arkansas from planes. The cash airdrops amounted to more than 9 million dollars a week.
Terry Reed saw the operation by being involved, but didn't realise that the cash came from cocaine trafficking. He also knew that the CIA and White House were involved (of course at the time he didn't know the identity of Oliver North yet).
Planes were "borrowed", with and without the owners' cooperation, for "sting" operations.
The New Jersey gun-manufacturing company Iver Johnson's arms Inc. was moved to Jacksonville, Arkansas.
The untraceable parts (without serial number) for the M16 rifles for the Contras were manufactured by the firm Park On Meter Inc. (POM) located in the town of Russellville.
Seth Ward Sr. was a high roller in Arkansas that was involved with POM, together with his son Seth Jr. (Skeeter). The son-in-law of Seth Ward Sr. was Webster (Webb) Hubbell, partner at the Rose law firm where Hillary Clinton was an attorney. Hubbell was also the corporate lawyer for POM and probably the biological father of Chelsea "Clinton".
Hubbell denied that POM manufactured parts for M16's, but admitted to a reporter of Time magazine that they had made a nose cone for a rocket launcher.
Barry Seal was one of the biggest US drugs traffickers in the 1980s and had been working as an informant for the Drug Enforcement Administration (DEA) for years.
Seal told Reed that he was involved in the arrest of Bill Clinton's campaign contributor Dan Lasater and half brother Roger Clinton. This was done because Clinton had taken 10% of the gross instead of the agreed upon 10% of the profits.
Seal wanted desperately to get out of the game. Seal decided to go public in order to protect himself against an impending Louisiana indictment.
Barry Seal told Reed that George H.W. Bush's kids are in the drug business, when Reed asked for confirmation, Barry answered:
"
Yup, that's what I'm tellin' ya. A guy in Florida who flipped for the DEA has got the goods on the Bush boys. Now I heard this earlier from a reliable source in Colombia, but I just sat on it then, waitin' to use it as a trump card, if I ever needed it. I even got surveillance videos catchin' the Bush boys red-handed. I consider this stuff my insurance policy. It makes me and my mole on the inside that's feedin' the stuff to me invincible
".
Seal was of course murdered on 17 February 1986 after the court ordered him to work for the Salvation Army, while prohibiting him to carry a gun or hiring armed protection...
Reed describes a meeting on 19 April 1986 at Juanita's Restaurant in Little Rock.
The "guest list" included Oliver North, Felix Rodriguez (alias Max Gomez), resident CIA agent Akihide Sawahata, Agency subcontractor Terry Reed, and Robert Johnson (lawyer for Southern Air Transport) was in charge of the meeting. Governor Bill Clinton and his aide Bob Nash dropped in uninvited.
This meeting confirmed that Clinton knew all about the drugs for arms pipeline centred in Arkansas.
After the meeting, Clinton invited Reed for a short talk, where Clinton smoked a joint (and inhaled deep!).
At the time they wanted Terry to set up a company for gun parts that would operate as a front in Mexico. Clinton advised Reed to set up this company for Oliver North.
A Classified FBI AIRTEL, dated 18 August 1987, warns the FBI, DEA and CIA of pending media investigation into the CIA activities at Mena, and identified Barry Seal as a CIA operative.
BOTH THE NEW YORK TIMES AND THE TELEVISION NEWS SHOW WEST 57TH STREET ARE PRESENTLY PREPARING STORIES REGARDING ALLEGED CIA ACTIVITIES AT AN AIR FIELD IN MENA, ARKANSAS.

THE ORIGINAL INFORMATION DATES BACK TO A PILOT, BARRY SEAL, NOW DECEASED, WHO IS PURPORTED TO HAVE FLOWN GUNS TO SOUTH AMERICA FROM MENA AND DRUGS BACK INTO THE UNITED STATES. THE INFORMATION INDICATES THAT SEAL WAS AN INFORMANT FOR THE DEA AT THE TIME BUT ALSO WORKING AS AN OPERATIVE OF THE CIA. DURING THE PAST FEW YEARS, THE ACTIVITY AT THE AIRSTRIP HAS AROUSED THE INTEREST OF LOCAL LAW ENFORCEMENT WHO THEN ATTEMPTED TO CONDUCT SOME INVESTIGATIONS BUT WERE BLOCKED BY THE U.S. ATTORNEY. IN 1986, SEAL WAS GUNNED DOWN IN BATON ROUGE, LOUISIANA. THIS WAS PURPORTED TO BE A HIT BY COLOMBIAN DRUG DEALERS.
See the following facsimile of the August 1987 "Secret" report.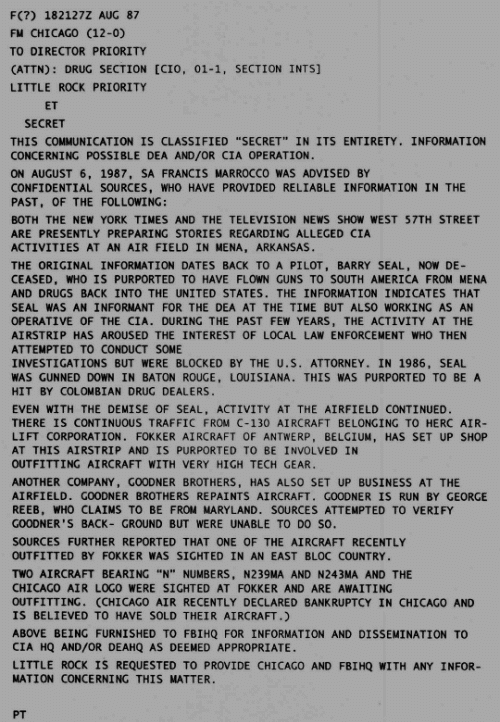 Lasater & Co. (of Dan Lasater), was handling more than $300 million annually in preferred state bond activity. Then Arkansas Development and Finance Authority (ADFA) was created, directly controlled by Governor Clinton's office. ADFA was designed to compete for the profits generated by the bond issues necessary to "industrialize Arkansas".
The state was using the Rose Law Firm as its bond counsel for much of this activity.
See the chart that was drawn by Terry Reed in January 1991. It shows the connections between Clinton, the Rose Law firm, Lasater, POM, Seth Ward, Webb Hubbell and Barry Seal.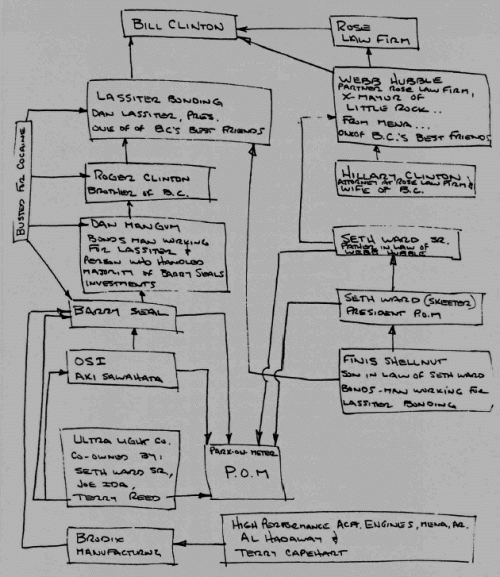 An example of the dealings of the ADFA, is the deposit of $50 million on an offshore bank account with the Fuji Bank in the Cayman Islands on 29 December 1988. A strange transaction for an organisation founded to lend money for development in Arkansas.
Fuji subsequently took over the loan on behalf of POM, and now presumably made payments directly to Fuji. This was curious since POM gave up a long-term, fixed rate, low interest loan issued by ADFA, which had a guarantor, the bank in Memphis, to back it up.
Clinton started borrowing money from First American in order to make up for their cash shortage, which could have made big problems for everybody involved.
Years later the BCCI scandal reached the headlines. Which showed money laundering and fraud – when at least 8 billions dollars, perhaps more than 12 billion, were missing.
Jackson T. Stephens, the chairman of Stephens & Co. in Little Rock, helped BCCI get started in the USA.
Investigators in New York would accuse First American Bank and Trust in Washington, for having hidden ownership ties to BCCI. This "secret tie" was denied by its chairmen, former Defense Secretary Clark Clifford and Robert Altman, who were both indicted for this connection.
Terry expected that the Arkansas drugs pipeline and money laundering would be blown wide open, but it never did.
Here's another chart made by the Harkin campaign committee during the 1992 Presidential Primaries. It shows similarities to the one Reed drew in 1991.
It includes the Clintons, ADFA, Rose law firm, Buddy Young, Terry Reed, Felix Rodriguez, the McDougals, Madison Guarantee, Stephens Inc, First American and BCCI.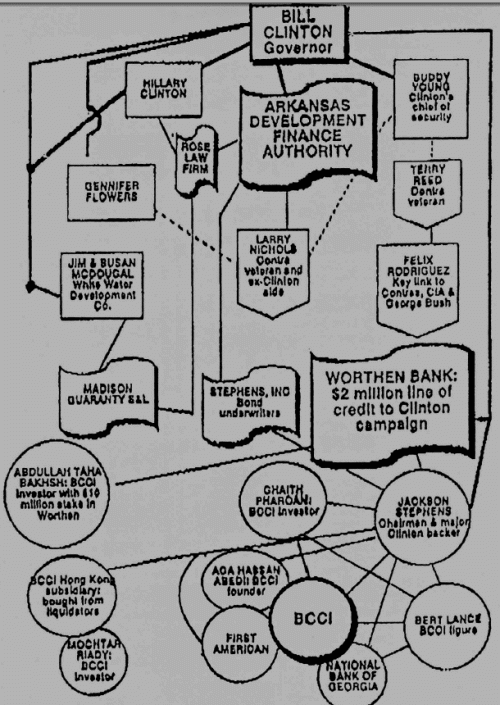 When Terry Reed was running the gun tool company in Mexico he was contacted by the Hungarian businessman and intelligence operative - George Fenue in July 1987.
Fenue had discovered a crate filled with cocaine and demanded Reed to explain using his company for shipping narcotics. Fenue had already discovered 2 earlier shipments in the logs with probably a similar content.
Reed secretly took 2 bags out before contacting his CIA handler in Mexico - Mitch Marr. Marr quickly took the bait by demanding what had happened to the 2 missing bags. Now Reed had certainty that the CIA had used him to traffic drugs.
Now suddenly Reed had become a liability, and he found himself in legal problems.
On 5 May 1988 a FBI AIRTEL message classified Reed as an "
instant matter now being carried as armed and dangerous due to information developed by the Little Rock division
".
Raymond (Buddy) Young was involved in framing Terry Reed; Reed was wrongfully accused of drugs trafficking (he was eventually acquitted).
Here's a picture of Hillary Clinton and Buddy Young.
In a strange way this book is really about Barry Seal. Terry Reed doesn't come close to describing what Seal knew (I believe that Reed is still alive).
Seal was portrayed in the 1991 movie "Double Crossed", and for this September another glossy movie is planned, featuring the little actor Tom Cruise playing the 300 pound heavy Barry Seal.
Here's a 10:16 interview with Terry Reed:
https://www.youtube.com/watch?v=H01_dY6atfc