This story is almost too good to be true.
Kissinger and the CIA have dismissed it as fake, but I think that Henry Kissinger was/is a KGB-agent.
In the early 1950s, Colonel Michael Goleniewski, who worked in Polish intelligence began supplying data on Soviet operations and agents to British and US intelligence agencies.
During the next decade, Goleniewski furnished US agents with more than 5,000 pages of top-secret documents, 160 microfilms of secret reports and 800 pages of Soviet intelligence reports. This included the names of hundreds of Communist spies in Western Europe.
In 1961, Goleniewski defected to the United States. He arrived in the USA on 12 January 1961 on a Military Air Transport plane accompanied by CIA agent Homer E. Roman.
Goleniewski revelations led to: 1) the exposure of the sex-and-spy scandal in the US Embassy in Warsaw, 2) the identification of Soviet agent Colonel Kolon Molody and 4 members of his cell in England, and 3) exposing Swedish colonel Stig Eric Wennerstrom as a KGB double agent.
One of the KGB-spies that he had information on - one Heinz "Henry" Kissinger.
Kissinger was nicknamed "Bor" and worked for ODRA. At that time, 1961, Henry was an unknown professor at Harvard. According to this information, Kissinger had worked with Bosenhard in Oberammergau. A 1954 update indicated that Kissinger had returned to the US, working at Harvard University, and was secretly working with the CIA.
Kissinger's contact is "Victor Louis", who's real name is Vitaly Yuvgenyevich Lui. Kissinger reportedly met Louis secretly in the Soviet Embassy in London just after his first trip to Red China.
Kissinger was recruited by the KGB when he was stationed in Germany 1945, 1946.
See Heinz Kissinger (left), who was recruited into the US military by Fritz Kraemer (right) in 1943.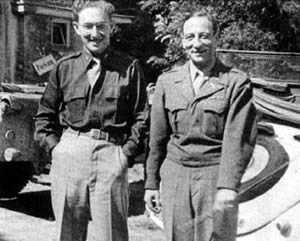 ODRA was directed by Soviet general Zelanznikoff; its local (German) chief was Colonel Kujun. The GZI chief (GZI is the Polish CIA), Colonel Wozniesienski, interrogated Kujun in 1954 and stored the results of his investigation in his safe. Kujun exposed Kissinger as an ODRA-operative.
Wozniesienski was later replaced by Colonel Skulbaszewski, who in 1956 was replaced by Goleniewski. Goleniewski found in Skulbaszewski's office the safe, which contained some 1500 pages of documents (including Kissinger's name).
Frank A. Capell's book "
Henry Kissinger... Soviet Agent
" (1974) should have exposed Kissinger, but most people have never even heard of it…
Goleniewski feared that Kissinger could go on playing his dirty game and tried to blow the whistle by informing Alan Stang about it.
Stang wrote in the March 1976 issue of
American Opinion
that Goleniewski had told him:
At this time I learned about Sergeant Kissinger, Sergeant Kissinger was for me a quite nobody. I didn't know who he was. I didn't know was he a Jew, or was he German, or what hell he was.
What I knew, that he got to be for one reason or another involved in counter-intelligence Smersh network of Soviets under code name "Bor", and it happened sometimes in Germany after he came with American Army.
And in 1961 for me it was one of hundred cases. I didn't pay no attention. Such cases they really existed hundreds, you see.
The evidence on this is entirely the accounts of one man - Michael Goleniewski. Goleniewski has been ridiculed for his claims to be Aleksei Nicholaevich Romanoff - rightful heir to the Russian Tsar throne.
If Goleniewski already in 1961 presented documented evidence on Kissinger working for the KGB, it must be true. In 1961, Kissinger was relatively unknown, which makes it highly unlikely that Kissinger was framed by falsified reports.
It has been noted that Goleniewski was reliable because other KGB-spies were discovered because of him:
http://www.sweetliberty.org/issues/home ... ger/12.htm
(archived here:
http://archive.is/5dx1P
)
The previous is based on a chapter from Gary Allen –
Kissinger: The Secret Side of the Secretary of State
(1976):
http://www.whale.to/b/allen_b2.html#MOS ... WASHINGTON
__
See KGB-agents Henry Kissinger and President Vladimir Putin on 13 July 2007.