Latino migrant children as young as 14, complained they were locked in solitary confinement without clothes, strapped to chairs with bags over their heads and beaten at the Shenandoah Valley juvenile center in Virginia.
A state review into the treatment of these immigrant teens confirms that between 2015 and 2018 they used restraint techniques that include strapping children to chairs and placing mesh bags over their heads.
The state review concluded that the restraint techniques "
did not meet the legal definition of abuse or neglect
":
https://www.theguardian.com/us-news/201 ... port-finds
Many people know that there was once a war (genocide) on Native Americans. Not many people know that this war has never stopped. These days: medical tyranny, psychiatric fascism, and DSS/CPS are used in the war against Native Americans.
DSS/CPS plays an important role. DSS/CPS now functions as the old Indian Boarding Schools of the late 19th and early 20th Centuries that were devised to forcibly "civilise" Native Americans into submission.
Both Federal Law and the Indian
Child
Welfare Act prohibit placing Native American children in non-native homes, but that doesn't stop that children are stolen and placed in non-native homes in almost 90% of the cases.
The South Dakota Department of Social Services (DSS) is collaborating with psychiatry and Big Pharma in what can be described as "genocide-for-profit". It uses techniques that involve social services, police, and the courts to steal children from their families.
Lakota parents and grandparents complain that it is routine for DSS to send cops to their homes to forcibly remove their children that are put into foster care or psychiatric facilities and then poisoned with psychiatric drugs.
63% of Lakota children placed in foster care until 18, wind up being homeless, in prison, or dead by the time they (don't) reach 20 years old:
https://www.naturalblaze.com/2018/08/ge ... lture.html
Attorney Daniel Sheehan investigated DSS. He says this DSS "jihad" began in earnest around 1996 when George Bush Jr. was governor of Texas and put in place "
mandatory mental health screening
" tests for all kids before they enter foster care.
In June 2013, Sheehan delivered a draft complaint to the United Nations accusing the DSS of genocide.
Psychiatric drugs used to poison the Native American children include: Zyprexa, Geodon, Prozac, and Abilify. The FDA has prohibited using these in children without consent of the parent or guardian, but surpassed this by placing the children with "guardians" who happily agree with drugging these children senseless.
Finding #1
The State of South Dakota has dramatically increased funding from 1999 to 2009 to support its DSS. South Dakota has the fifth highest ratio of prescriptions to Native American foster children in the country (more than 99.9%!).
From 1999 to 2009 the total number of prescriptions given to Native American foster children in South Dakota increased from 841 to 3,112 (a rise of 370%).
Native American Children and Prescription Drug Use in the South Dakota Foster Care System increased from $300,987 to $4,016,148 (a rise of 1334%).
In 2005 and 2006, the number of prescriptions to Native American foster children in South Dakota via Medicaid funding more than doubled from 547 to 1138, with the federal spending going from $489,631 to $1,002,682.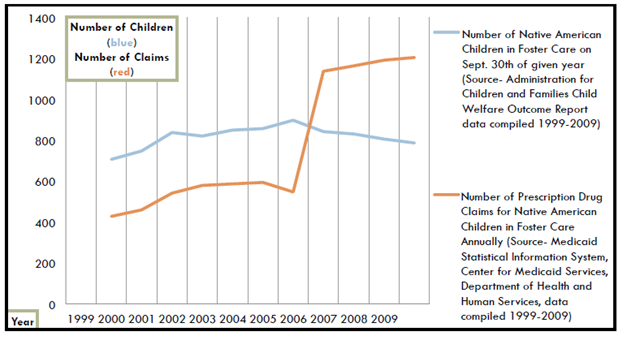 Finding #2
Native American children are placed into foster care at much higher rates than other ethnic groups in South Dakota.
Finding #3
Methods for identifying mental illness biased towards ethnic minorities, in particular for children of the Native American population.
Daniel Sheehan –
Is South Dakota Over-Prescribing Drugs To Native American Foster Kids?
(2013):
https://s3-us-west-1.amazonaws.com/lako ... report.pdf
In the following video, Daniel Sheehan explains what he found out about the DSS in South Dakota.
https://www.youtube.com/watch?v=5DgBqYkcxZs
This reminds me of the well-documented "hiddden" genocide of Native American children in Catholic residential schools in Canada...
It is estimated that since the end of the nineteenth century some 50,000 Native American children were killed, while on top of that also a lot of potential mothers were sterilized.
In 1910, D.C. Scott declared:
It is readily acknowledged that Indian children lose their natural resistance to illness by habitating so closely in these schools, and that they die at a much higher rate than in their villages. But this alone does not justify a change in the policy of this Department, which is geared towards the final solution of our Indian Problem.
http://canadiangenocide.nativeweb.org/genocide.pdf
Some details on the black site activities of current CIA director "bloody" Gina Haspel in Thailand have been declassified
Document 12 - describes the waterboarding of Nashiri beginning on 26 November 2002:
Interrogation escalated rapidly from subject being aggressively debriefed by interrogators while standing at the walling wall, to multiple applications of the walling technique, and ultimately, multiple applications of the watering technique.
[Nashiri] was left strapped to the waterboard to contemplate his fate … no matter what subject thought might happen to him, interrogators were not going to let subject come to grave harm; indeed, they were going to ensure that he would be able to answer the questions they would pose to him again and again.
The water treatment was applied at 1214 hours… Interrogators covered subject's head with the hood and left him on the water board, moaning, shaking and asking God to help him repeatedly....
https://nsarchive.gwu.edu/briefing-book ... classified
Part of post moved to "new" thread on the coming 2019 market crash:
viewtopic.php?f=7&t=1484
Keywords: "
loaned money, personal GDP, precarious financial position, consumer credit, trillion, Student loan debts, wage growth declined, official US budget deficit, Goldman Sachs
"