Finally the "special prosecutor" has indicted 2 partners in crime of Donald Trump – Paul Manafort and Rick Gates. This looks more like "Ukrainegate" than "Russiagate" to me...
The trail also leads to the Podesta Group of Tony and John Podesta.
I've quickly scanned the full indictment, but didn't read that Paul Manafort used property in the Trump Tower, to launder money.
I wouldn't claim that Robert Mueller is nothing but a "special" cover-up artist, or that this is the most interesting in this scandal, but it's strange that Mueller "forgot" this...
Between 2006 and 2013, Paul J. Manafort bought 3 homes in New York — one in Trump Tower, one in Soho, and one in Carroll Gardens, Brooklyn. Using shell companies, Manafort paid for them in full, and then transferred the properties into his own name for no money.
In 2005, Manafort and Davis began pursuing work with Oleg Deripaska, one of the richest "businessmen" in Russia, CEO of RUSAL and close to Vladimir Putin.
Manafort's 2006 purchase of a Trump Tower apartment coincided with signing a $10 million contract with Deripaska.
In 2012, one of Manafort's shell companies,
MC Soho Holdings LLC
, purchased a fourth floor loft on Howard Street (on the border of Soho and Chinatown), for $2.85 million. In April 2016, when he was becoming Trump's campaign manager, Manafort transferred the unit into his own name and borrowed $3.4 million against it.
In 2013, another Manafort-linked shell company,
MC Brooklyn Holdings
, purchased a townhouse at 377 Union Street in Carroll Gardens for $2,995,000. This transaction followed the same pattern: the home was paid in full without a mortgage. On 9 February 2016, after Trump's victories in Michigan and Mississippi, Manafort took out $5.3 million in loans on the property.
This looks like a scheme to keep the source of the (dirty) money hidden.
Between April 2015 and January 2017 – including time that he worked on the Trump campaign – Manafort borrowed about $12 million against his 3 New York homes (including the apartment in Trump Tower). That was more than he had paid for them, and more than they're worth.
Days before Trump was sworn in as President, Manafort transferred the Carroll Gardens brownstone from
MC Brooklyn Holdings
to his own name and refinanced the loans with The Federal Savings Bank, taking on more debt. He now has $6.8 million in loans on a building he bought for $3 million (in March 2017). According to David Reiss, a professor real estate law, it's extremely unusual for a home loan to exceed the value of the property.
In August 2016,
The New York Times
published an article on Manafort, claiming he'd accepted $12.7 million in undisclosed cash payments from a pro-Putin, Ukrainian political party between 2007 and 2012. Then Manafort had to resign as campaign manager:
http://www.wnyc.org/story/paul-manafort ... purchases/
(archived here:
http://archive.is/okldW
)
Even more interesting is the "lobbying" for the
European Center for Modern Ukraine (ECFMU)
by Mercury LLC (of Manafort and his employee Rick Gates) and the Podesta Group from 2012 to 2014.
ECFMU
was affiliated with Viktor Yanukovych, who was the president of Ukraine from 2010 to 2014. Yanukovych is pro-Putin and had to flee the country after protesters overthrew his government. He was reportedly helped by Putin to escape to Russia.
Reportedly Podesta and Manafort had to lobby the message that Ukraine's 2012 election was really democratic and that the country's leaders wanted to move further away from Putin and closer to the West.
The Podesta Group has in the past lobbied for foreign government clients with abysmal human rights records, like Vietnam, Azerbaijan and South Sudan.
Mercury LLC's filings with the Justice Department show that its lobbyists, including Ed Kutler (an ally of Newt Gingrich), spent time setting up meetings related to Ukraine issues. One person they introduced to numerous Hill offices and to a senior official at the
Export-Import Bank
was Sergiy Klyuyev.
Less than a year after Mercury LLC introduced Klyuyev around the Hill, the EU froze his assets in the wake of the collapse of the Yanukovych regime. Klyuyev was one of more than a dozen Yanukovych allies the EU suspected of embezzling state money. Klyuyev and his brother reportedly also fled to Russia. Sergiy's brother has been accused of orchestrating mass killings of Euromaidan protesters:
http://www.thedailybeast.com/how-dc-lob ... tin-puppet
(archived here:
http://archive.is/lRJm1
)
Over $1.5 million has been paid by the
Party of Regions
to American politicians in 2012 and 2013 alone. The founders of the
ECFMU
, at that time, were 3 Members of the Parliament from the
Party of Regions
, who in 2 years since have moved considerably up the power ladder — the current Foreign Minister Leonid Kozhara, the current head of the Budget Committee of Parliament Ievgenii Hiellier and the current head of the Foreign Affairs Committee of the Verkhovna Rada Vitaliy Kahlyushnyy.
The reported budget of the
ECFMU
(located in Brussels, Belgium) is only €10,000. In 2012, the Belgian mediator paid the American lobbyists 80 times that amount — $800,000. In 2013 they have paid American lobbyists 79 times their budget — $790,000.
The Podesta Group, was founded by brothers Tony and John Podesta. John headed the office of President Bill Clinton in 1998-2001, since December 2013 was a senior adviser to President Obama and then campaign chairman for Hillary Clinton. In 2012, 2013 the Podesta Group received $1.02 million from the ECFMU.
The second company that was hired by
ECFMU
, is
Mercury/Clark & Weinstock
, of Manafort and Rick Gates. Mercury is affiliated with ex-Republican congressman John Vincent "Vin" Weber, who was involved in the last presidential election campaign of Mitt Romney. Mercury received $570,000 from Brussels in 2012, 2013.
What's bizarre about the
ECFMU
is that it was first reported to be founded by acting Members of Parliament in the Ukraine: Leonid Kozhara, Ievgenii Hiellier and Vitaliy Kahlyushnyy.
The surnames of Kozhara, Hiellier and Kahlyushnyy were taken out of the registry, and replaced by former MP Oleg Nadosha, ex-MP Oleksiy Plotnikov and Kseniya Solovyova (born in 1987).
German Ina Kirsch Van de Vater, was also among the founders for the
ECFMU
. Ina Kirsch claimed that the
ECFMU
has no relation to the
Klyuyev Foundation
(suspected of embezzling state money):
U.S. companies that cooperate with the 'European Centre for Modern Ukraine' have no relation to the Party of Regions. They work exclusively in support of the Center (...) The Center has nothing to do, directly or indirectly, to Klyuyev's fund.
Strangely Ina Kirsch "forgot" to mention that her husband Robert Van de Vater in 2014 was a Deputy Board Chairman of the
Klyuyev Foundation
:
http://www.pravda.com.ua/articles/2014/02/5/7012902/
(archived here:
http://archive.is/GhInS
)
The following graph explains this in short.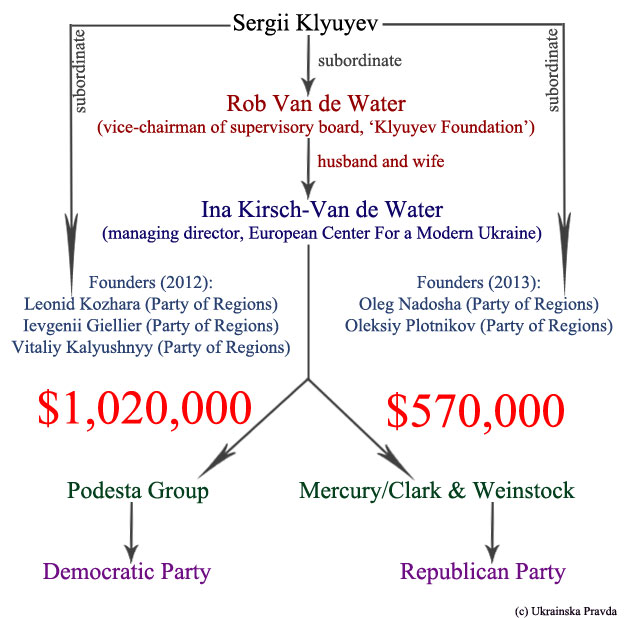 President Trump's former campaign chairman, Paul Manafort, has been charged with tax fraud and money laundering. Manafort surrendered to the FBI and pleaded not guilty to charges that he laundered millions of dollars through overseas shell companies. Manafort was also charged with failing to register as a foreign lobbyist.
Rick Gates, Manafort's long-time partner in crime and a campaign adviser (even after Manafort resigned), was also charged and turned himself in.
Prosecutors say in:
total, more than $75 million flowed through the offshore accounts. MANAFORT laundered more than $18 million
Manafort spent the money extravagantly, including more than $1.3 million to clothing stores in New York and Beverly Hills.
According to the
New York Times
, even more damaging to President Trump, is that George Papadopoulos, a former foreign policy adviser to the Trump campaign, has pleaded guilty to lying to the FBI and was cooperating with investigators. Reportedly Russian intelligence services had used intermediaries to contact Papadopoulos to gain influence on the campaign:
https://www.nytimes.com/2017/10/30/us/p ... icted.html
Because of this scandal, Tony Podesta has resigned from his lobbying company, and will be handing over full operational and financial control to the company's CEO Kimberly Fritts:
http://www.foxnews.com/politics/2017/10 ... unsel.html
Where have I heard about FBI investigations before…