The genocide in Yemen appears to pass most people by. I had posted some of this in another thread,
The totalitarian state
, since March of this year. I've decided to (finally) make this into this separate thread.
It took me a long time to find out why Yemen has been targeted, it appears to be about gas, and possibly Yemen also has a oil resources.
This first post is going to be a long one. This looks like one of the worst case of genocide since the 1950s, and if nobody blows the whistle it looks like it will continue...
Bombs, starvation, cholera
The people of Yemen are literally starved to death, by a blockade and bombing by Saudi Arabia that started on 25 March 2017. With the support of the government of Britain, the USA, and the terrorist organisation United Nations.
This is what Yemeni infants looks like, dying of starvation.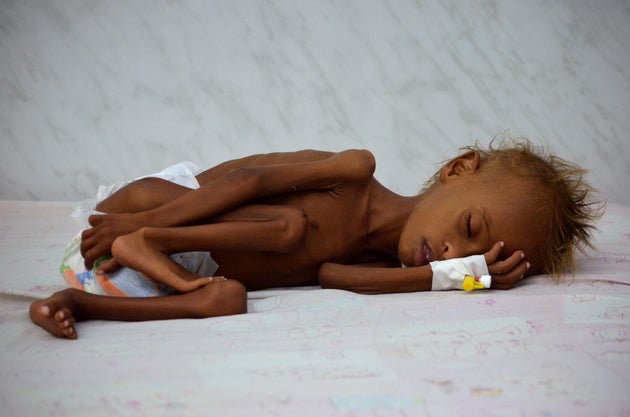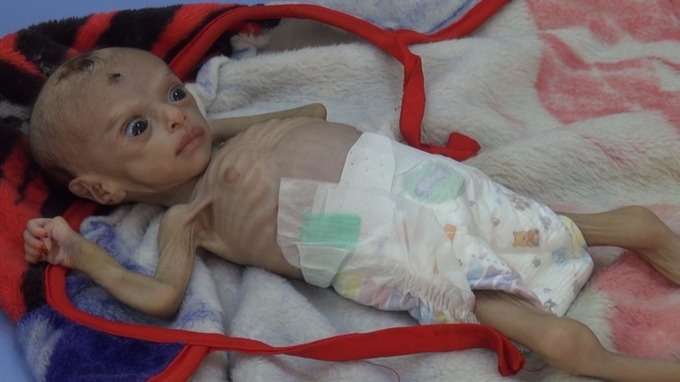 Here is a 10:50 video that shows the effects of the UK/US/Saudi led coalitian's war against Yemen.
There are several interviews with nurses, it shows amongst others dying children because of malnutrition, mothers trying to keep the flies away...
And a protest in Sanaa blaming the US government for selling weapons to the Saudis, but not the American citizens.
https://youtu.be/sDPJEtoSHeA
Here's a video by Oxfam on what is happening in Yemen.
https://youtu.be/qP8_wRUlZ-c
In early 2011, the people in Yemen started demonstrations against the corrupt dictatorial regime. President, dictator Saleh eventually resigned in favour of his vice president, endorsed by the USA and Saudi Arabia, Mansour Hadi. Hadi ran for president in 2012 and won the election — he was the only candidate. This failed to mollify the Houthis. In September 2014 they marched into Sanaa and placed Hadi under house arrest.
For many years the Kingdom of Saudi Arabia bought large amounts of weapons - bombers, bombs, and missiles – from the USA, Britain, France, and other NATO countries. Saudi Arabia bought 84 Boeing F-15's, 170 helicopters, bombs and missiles (including 1300 cluster bombs sold by Textron for $641 million). This sale totalled $60 billion: the largest arms sale in US history.
The United Nations passed a Security Council resolution that demanded the unconditional surrender of the Houthi Ansarullah movement. On 25 March 2015, the Royal Saudi Air Force went into action. Six days later, the Saudi-led coalition imposed a blockade of Houthi-held areas.
The Houthis were proclaimed terrorists for fighting against a dictator favoured by the elite; they also claimed that the Houthis are connected to Iran. The USA supplied "logistical and intelligence support" to the "coalition", including training, intelligence, while US Navy ships aided in the blockade.
Yemen imported more than 90% of its food, fuel, cooking gas, and medicine. The effect of the blockade is devastating, and is worsened by the bombs (including carpet bombs and phosphorous bombs) that target infrastructure and agriculture.
According to Peter Maurer, head of the International Red Cross: "
Yemen after five months looks like Syria after five years
". Maurer attributed this to the fighting, bombing, and the blockade:
http://harpers.org/archive/2016/09/acce ... /?single=1
Tariq Riebl, an aid worker for an international humanitarian organisation stated:
I witnessed about a thousand air strikes. Some of them were very close. I almost burst my eardrum in one.
In Sanaa the strikes lasted up to five hours, "
You'd have that four to six times a day. It would start randomly. It was the middle of the night, middle of the day, morning, night, afternoon, anytime. Consistently on holidays, on Fridays, in the middle of prayer time, market days (…)
Let's be very clear, the civilian targeting is absolutely astounding. I've seen hospitals, mosques, marketplaces, restaurants, power plants, universities, residential houses, just bombed, office buildings, bombed. Everything is a target. In Saada, there were dead donkeys on the side of all the main roads because the Saudis were hitting donkey carts. In Hajjah, the water tank in one of the towns got hit, and it sits on a lonesome little hill.
The result of the blockade and the bombing is that 7 million of the country's 27 million population is on the verge of starvation. The number of food insecure people in Yemen has risen by three million during seven months. More than 17 million Yemenis are forced to skip meals.
The UN International Children's Fund (UNICEF) warned that 462,000 children are suffering from acute malnutrition in Yemen. UNICEF said that at least 370,000 children are at risk of severe malnutrition, and without urgent treatment will die. An estimated 1.5 million children are malnourished.
According to statements from the UN, over 14 million Yemenis (more than half the population) are now living in hunger. The threat of mass starvation is compounded by a rapidly spreading cholera epidemic.
In other words, with the aid of the developed world, Saudi Arabia and its allies are starving an entire population – that's genocide.
The USA has sold a whopping $115 billion to Saudi Arabia since Obama took office:
http://www.globalresearch.ca/un-warns-u ... en/5553857
The Pentagon has sent
US military lawyers
to train the Saudis to ensure "
the legality of air strikes
":
http://www.aljazeera.com/news/2017/08/a ... 39979.html
Thousand children a week
A lot of reports, based on information of the UN, state that "more than 10,000" civilians in Yemen have died because of the bombs by Saudi Arabia. Much more than that is dying because of starvation.
Let's do the math.
At least one child dies every 10 minutes in Yemen.
More than 6 per hour.
More than 144 per day.
More than 1000 per week.
More than 4320 per month.
More than 52,500 per year.
See 2 Yemeni girls, dying of hunger.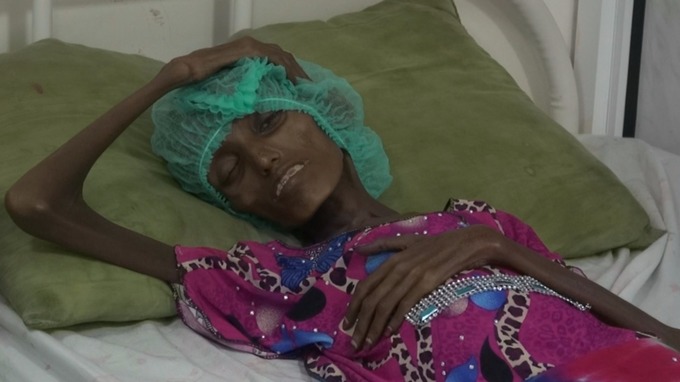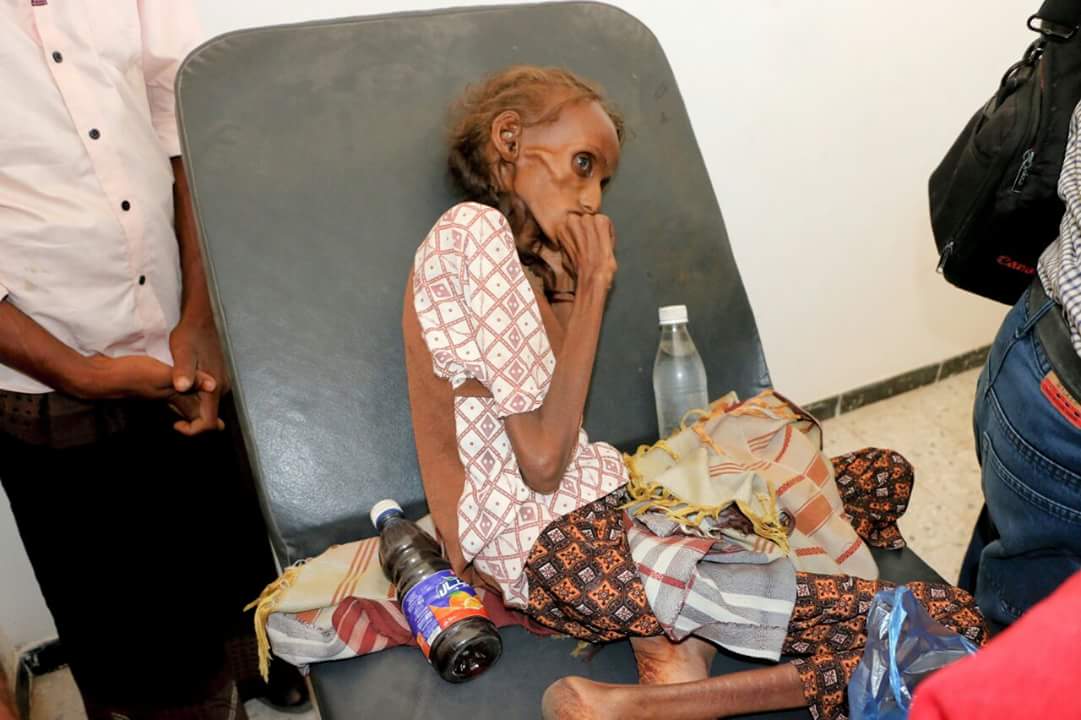 Already in April 2015 (that's a year and 3 months ago!) the food supplies across Yemen were running out, and petrol stations empty. As the blockade continues, the country's food shortage will become even more severe.
Yemen Economic Corporation, one of Yemen's largest food storage centres, was destroyed by 3 missiles of the coalition:
http://www.thenational.ae/world/middle- ... d-conflict
Attacks on electricity and water installations as well as food storage centres will inevitably cause severe harm to civilians:
https://www.hrw.org/news/2015/05/18/dis ... violations
There are photographs of destroyed farms, factories and dead animals in fields with munitions –preventing farmers returning to work. Poultry and beehive farms have been destroyed:
http://www.independent.co.uk/news/world ... 76576.html
Since December 2016 the famine in Yemen has become even worse:
https://www.democracynow.org/2016/12/15 ... e_us_could
The few stories about this catastrophe often call for "health care". I can tell from personal experience that when you're on the verge of starvation, you need food instead of doctors. This can be illustrated with the following quote from a mother that was offered spoons and dishes by a businessman, and replied to this gift:
There is no food, no pure water, no electricity, nothing. One day, a businessperson came to us and give us dishes and spoons but I told him sarcastically, 'What should we do with these? Eat the soil?'
Millions of Yemenis don't have clean water to drink, which causes illness, so they require medical care…
Following is a June 2017 overview of the destruction of Yemen by the UK-US-Saudi led coalition.
2.5 million - people displaced.
404.485 - Houses destroyed and/or damaged.
1733 - Bridges and roads destroyed.
162 - Electrical power plants destroyed.
294 - Health facilities destroyed.
According to the official numbers a total 12.574 people have been killed.
Please don't do the math or you might lose some sleep over this: 1000 Yemeni children die every single week (of course throwing bombs on the food supply doesn't count as a war crime...).
1784 - Agricultural fields destroyed.
221 - Poultry farms destroyed.
676 - Food stores destroyed.
528 - Food tankers destroyed.
In the night of 22/23 August, starting at midnight, the UK/US-led coalition carried out a bombing campaign of at least 25 air strikes on the outskirts and north of the capital of Yemen, Sanaa.
At least 35 people were killed when a hotel to the north of Sanaa, which housed mainly QAT-farmers, was destroyed. Some sources claim that the death toll is at least 60.
According to the deaf, dumb and blind UN, "
more than 10,000
" people have been killed since March 2015, blatantly ignoring that 1000 Yemeni children die every single week.
According to a report by the Protection Cluster in Yemen (part of the wonderful UNHCR organisation), there were more air strikes in Yemen from January to June 2017 (5,676) than in the whole of 2016 (3,396).
According to the Protection Cluster, 14 million Yemenis are food insecure and don't have access to clean water (more than 50% of the population) of which 8.2 million are in acute need of help.
According to the Guardian in July 2015, 20 million Yemenis are in need of aid.
The expected winners of the genocide in Yemen are Isis and al-Qaeda in the Arabian Peninsula (AQAP):
https://www.theguardian.com/world/2015/ ... thi-rebels
Most people in the "civilised" world don't even realise what it's like to have no clean water to drink.
368 - Water tanks and networks have been destroyed:
http://geopoliticsalert.com/heres-exact ... oyed-yemen
Gas
Yemen has a strategically important position, with harbours that could ship oil from the Middle East further east into Asia, while it is also strategically located near Africa.
For some time now I've been trying to find out why the "civilised" world has started this war against the "poorest country" in the Middle East – Yemen. The answer is really simple; it's about gas (and maybe oil)…
I have read an interesting interview with Hanan al-Harazi from August 2015, who could escape Yemen because her family had foreign passports. Nobody is issuing visas to Yemeni nationals so this means 23 million people are trapped inside a country that is being mercilessly and indiscriminately bombed with complete disregard for civilian life.
Saudi Arabia wants to bomb Yemen into submission. When this didn't succeed they continued with this brutal, horrific, cruel, vicious blockade on Yemen in the hope that the Yemeni people will turn against those who are fighting the Saudi invaders.
Not many people know that the problem of not having energy resources is enormous, because without diesel or electricity, water cannot be pumped from underground reservoirs.
In Amran and Lahj, they have targeted food markets and livestock markets — to starve Yemenis.
The mainstream media have ignored that internationally banned weaponry was used in Yemen. The use of cluster bombs is well documented, some have failed to detonate and were photographed on the ground.
In the densely populated civilian area called Faj Attan, weapons of mass destruction were used. Why was this exempted from investigation?
There are areas in the South, like parts of Hadramaut, which are under total control of Al-Qaeda. Strangely the bombs are falling on the people that are fighting these extremists. Not a single bomb has been dropped on the extremist strongholds. Obviously the "coalition" is not fighting against Al-Qaeda.
That Yemenis knew that our long-time dictator "Ali" Abdullah Saleh gave priority to the Saudi interests over that of Yemen, led to the 2011 revolution to get rid of him.
Jamal Benomar, the former UN peace envoy to Yemen, has confirmed that just as the warring factions, including the Houthis, were reaching an agreement (the Peace and Partnership Initiative) - Hadi suddenly didn't want Ansarullah to have even marginal representation in government (ordered by the Saudis). This was not going to be acceptable to Ansarullah.
Hadi was placed under house arrest because he was following Saudi instructions. Saudi Arabia was against Ansarullah's inclusion in Yemen's government. Then Hadi fled to the south, and then on 25 March 2015 the war started.
They want to split Yemen into a six-federal-state system. This was the start of the problem. When they devised the six-state system, they deliberately isolated one state, Azal, without resources or access to the sea. It was blatant imprisonment and suppression of that area.
Iran is not playing an active role. Iran's supposed "support" is only a propaganda ploy for the Saudis/imperialists to justify hitting Yemen.
The Saudis put Yemeni leaders on their payroll to destroy Yemen. It's nearly impossible for a Yemeni to get a visa to travel, even to the Emirates. How can a country flourish when there are so many restrictions on its people:
http://dissidentvoice.org/2015/07/yemen ... ilderness/
There are oil and large gas reserves in al-Jawf, which borders Saudi Arabia and has been protected by them for years. In 2011, President Saleh was forced to admit its existence publicly. The presence of gas reserves in the Marib-Jawf gas fields northeast of Sanaa was already known before 2011…
In August 2005, the Yemen Liquid Natural Gas (YLNG) project in Balha project was being developed by a consortium led by France's Total (39.62% shareholding); US company Hunt Oil (17.22%); South Korea's SK Corp (9.55%), Kogas (6%), Hyundai Corporation (5.88%); Yemen Gas Company (6.73%), and the General Authority for Social Security & Pensions of Yemen (5%).
The needed $5 billion, was financed in part with $3 billion from a syndicate of banks including Bank of Tokyo-Mitsubishi UFJ, Citigroup, ING Group, Royal Bank of Scotland, Société Générale, and Sumitomo Mitsui Banking Corporation:
http://www.hydrocarbons-technology.com/ ... yemen-lng/
This looked like Yemen would take 11.73% of the profits of this gas field -was this too much?
There are reasons to believe that Saudi Arabia is a spend force in oil exports, and needs to plunder Yemen (and other states) to keep up. If the people find out that they have squandered the oil profits, the Saudi regime could be in a lot of trouble. It's no coincidence that the Saudis are killing people in the same Jawf region where the oil and gas basins were first discovered and explored by Hunt Oil, Exxon.
Since 15 November 2005, the Government of Yemen has taken action to prevent Hunt Oil and Exxon to plunder Yemen (in Block 18). According to Hunt this is in violation with agreements signed in 2004, so was forced to file arbitration against the Government of Yemen - EDIT original article was deleted:
http://web.archive.org/web/201710190648 ... 98537.html
British Gas and the United States Geological Survey (USGS) have known of the vast oil and gas deposits offshore of Yemen for some time. A 2002 USGS report shows that there is an immeasurable potential, while numerous explorations show vast oil reservoirs and potential around Yemen.
A WikiLeaks cable dated 1 December 2008, from Ambassador Stephen A. Seche, shows that the Bush administration knew that Yemen was "
PUSHING FULL STEAM AHEAD ON GAS PRODUCTION
.
Looking back this seems a warning that something must be done to stop the Yemeni government.
It isn't surprising that the Wall Street Journal doesn't report about what's going on. This is one of the many media outlets of Rupert Murdoch, who has personal interests by his investments in Genie Oil:
http://www.globalresearch.ca/yemen-a-wa ... ma/5519856
Since 28 February, the USA has conducted roughly 80 airstrikes in Yemen.
In this month US troops have been helping the United Arab Emirates army and Yemeni militias loyal to Abu Dhabi with "
intelligence sharing
" to invade the Shabwa province in the southeast of Yemen, where there's a large reservoir of gas (and oil).
We must all agree that "Al-Qaeda militants" must be fought to prevent these dangerous extremists from getting their hands on "our" gas and oil...
Mercenaries of the US and Emirates troops have seized control of oil and gas wells in Shabwa with the aim of controlling and plundering the wealth of Yemen:
http://alwaght.com/en/News/106287/US,-U ... Oil-Fields
Vaccination
The UN has launched a campaign in February 2017 to vaccinate 5 million Yemeni children with polio, with the help of the World Bank, UNICEF and WHO.
According to Ms. MeritxellRelaño of UNICEF:
Every minute, the situation of Yemen's children gets worse. It is unacceptable that children in Yemen are dying of preventable diseases. This is why, together with partners, we are sparing no effort to save more lives
Ms. Sandra Bloemenkamp of the World Bank stated:
The World Bank is committed to investing in children's health, which is a vital investment in the country's future, through working with our UN partners in Yemen and strengthening the local health institutions.
They have even been so considerate to deliver fuel, generators and solar-powered refrigerators to keep vaccines at a constant cool temperature:
http://ye.one.un.org/content/unct/yemen ... -torn.html
According to the UN "
Vaccination is one of the safest and most cost effective health interventions to protect children from potentially fatal and debilitating diseases
".
I guess the UN has never heard that food, clean water and fuel are more cost effective health interventions than vaccines…
The international world powers in their greatest philanthropic disguise, last June provided Yemen with one million doses of an oral cholera vaccine for urgent use.
Do I understand correctly that according to the state propaganda, because of these magical "vaccines", Yemenis don't need food and clean water anymore...
There is at least one death every hour caused by severe dehydration and diarrhoea.
International health officials say the emergency vaccinations are necessary to contain the cholera epidemic in Yemen. The vaccine can only be administered to those who don't have cholera yet.
Once Yemenis have been exterminated this will surely stop the cholera outbreak...
According to the WHO, there is already a network in place to distribute the vaccines immediately in priority areas to everyone above the age of one:
https://www.irinnews.org/news/2017/06/2 ... aded-yemen
Port of Hodeidah
The Houthi "rebels" still have some control over one port through which (possibly, hopefully) food can reach their part of Yemen – Hodeidah.
The UK/US-led coalition does everything they can to make it impossible to import food through this port.
The city of Hodeidah is being attacked. A UN official warned that up to half a million civilians could be displaced if the conflict in the country's southwest escalates.
An attack on Hodeidah would endanger the 1 million residents of the city, as well as the over 2.5 million in the southern Yemeni province of Taiz.
According to a recent report by the UN Office for the Coordination of Humanitarian Affairs (which includes Saudi Arabia...), 19 million Yemenis, around 60% of the population, don't have access to food:
http://web.archive.org/web/201710131456 ... -0034.html
On 16 March 2017 at about 9 PM, a helicopter opened fire on a boat carrying (mostly) Somali civilians some 50 km (30 miles) off the coast of Hodeidah, killing more than 32 people (including a Yemeni civilian) of the 145 on board.
Another 29, including 6 children, were wounded, and 10 more remain missing.
Because the Houthis don't possess helicopters, it is clear that this war crime was done by the coalition
All the parties involved, have denied responsibility for the attack, including the USA and Saudi Arabia.
Human Rights Watch was not able to determine which coalition member carried out the attack on the refugee boat, but the US State Department has approved the sale of helicopters to Saudi Arabia, the United Arab Emirates, Kuwait and Jordan:
https://www.hrw.org/news/2017/03/26/yem ... -war-crime
Here's a photo of some of the corpses after the attack on the boat.
Saudi Arabia has called for the UN to take control over Hodeidah, to:
facilitate the flow of humanitarian supplies to the Yemeni people, while at the same time ending the use of the port for weapons smuggling and people trafficking.
In the first week of July the airstrikes by the "coalition" continued. Including attacks on the city port Hodeidah.
As a result of drinking contaminated water, Yemen is in the midst of an unprecedented cholera outbreak. Hundreds of thousands of Yemenis have already been infected:
http://geopoliticsalert.com/photos-amid ... tion-plant
The following picture shows the severely malnourished girl Jamila Ali Abdu, 7, before she died in Hodeidah.
United Nations in genocide
While Yemen is being starved to death, the UK, USA, Netherlands, Saudi Arabia, Egypt, Qatar, and the United Arab Emirates (all involved in this clear example of genocide) have nice seats on the highly respected UN Human Rights council (OHCHR):
http://www.ohchr.org/EN/HRBodies/HRC/Pa ... mbers.aspx
The UN has written that Yemen must achieve a "transition":
In 2013, Yemen enters into the most critical phase of the Transition, marked by a series of overlapped processes to be achieved in just 12 months:
 implementation of the national dialogue process,
 development of a new national constitution,
 setting up of a legal framework for transitional justice,
 establishment of an independent institution for human rights,
 completion of the first phase of the electoral cycle and
 Accomplishment of structural reforms in the security sector.
The UN describes the problems for Yemen as follows:
This complex transition, aiming at establishing a new balance of power in Yemen, will take place in a context seriously affected by:
- insecurity, as a result of continued military clashes amongst the national army, Al Qaeda-affiliated groups and armed tribes in many areas of the country;
- severe humanitarian crisis, particularly in the South, aggravated by a massive movement of population from the Horn of Africa; and finally
- an increasing social demand for "peace dividends"
"Peace dividends" is the demand for a decrease in military spending and increase in money for social programs:
http://www.ye.undp.org/content/yemen/en ... untryinfo/
No information at all about the massive famine caused by the blockade and bombing by the coalition led by the UK/US.
I have archived this page of the UN here:
http://archive.is/mfZbX
World Bank and IMF to finish the destruction
The IMF and World Bank have been helping Yemen to destruction since at least the 1990s.
I have found a plan that details the strategy of the IMF and World Bank from 1999 to 2001 for Yemen:
https://www.imf.org/external/np/pfp/199 ... ndex.htm#I
First a short summary of this strategy.
The dirt poor Yemen must pay off their "debts" to the banks by increasing tax collection, while at the same time increasing prices. For example in 2005 protests broke out when the Yemeni government guided by the World Bank increased the prices of oil, diesel and gas with respectively 100, 200 and 50 per cent:
https://www.dawn.com/news/148827/wb-imf ... s-in-yemen
Increase the power of the legal system to protect the financial institutions
Decrease subsidy, so what's left of the economy will collapse, but on the other hand increase the spending for hospitals and education (so that only the good slaves will survive).
Following is my summary of the strategy of IMF and World Bank for Yemen in more detail.
Increase prices
raising subsidized prices despite lower world market prices (also for cereals), thereby significantly reducing subsidies, and by cuts in development expenditure (…)
the intensive civil unrest following the June 1998 increases in administered prices pointed to the need to enhance public awareness of the reform program to ensure that further progress on reforms is not delayed.
Increase taxes
the taxpayer identification number system (TIN) will be extended beyond the current range of major taxpayers to medium- and smaller-sized contributors and will be enforced through penalties for non-observance. In addition, the need for computerization to enhance the effectiveness of the TIN's use will be reviewed.
Reduce subsidies
in January 1999 the government eliminated the wheat subsidy by liberalizing the trading and pricing of wheat--well ahead of the initial target date--and plans to halve the flour subsidy through an increase in price early in 1999. The flour subsidy will be abolished in full by the start of 200
More hospitals, pharmaceuticals, and schools
GDP for 1999-2001 are to be increased to average 8.2 percent for education, 1.6 percent for health, and 1.2 percent for social safety net programs. In addition, reform programs will be implemented in the education and health sectors to ensure better management of scarce public resources (…)
To support this effort, trade in pharmaceuticals will be delegated to the private sector by eliminating the government procurement monopoly effective by the year 2000.
Increase repaying of debts and a strong legal system to protect the banks
The soundness of the banking system is vulnerable because of weak enforcement of prudential regulations, high levels of nonperforming loans in certain (mostly state-owned) banks, and a weak judiciary system (…)
government gives immediate priority to introducing the legal, judiciary, and regulatory framework necessary to establish a free market environment for private sector activity and investment (…)
A new Central Bank Law will soon be approved by the cabinet with the goal to become effective by end-1999. It will give the central bank greater independence and focus its mandate on price stability through changes in the composition of the Board of Directors, allow it to issue its own securities, if needed, for open market operations, limit public sector financing to emergency loans, grant it freedom to define and adopt its own monetary and exchange rate policy, and require greater accountability (…)
Accordingly, the reform program over 1999-2001 will include specific steps aimed at advancing reintermediation in a competitive market environment and in particular to unblock the loan recovery process. Measures such as requiring that all court decisions be made in writing and published promptly, strengthening enforcement through introduction of a bailiff system, establishment of a quantitative system for monthly monitoring of court operations, and reducing the fee for filing a case in court will be considered. The delinquent borrower notification system implemented in 1997 will be continued.
And it's not only the bombing and blockade that finishes the destruction of Yemen.
The situation is in turn used as an argument to stop the "humanitarian" aid to Yemen.
The banks simply block the transfer of money to import food. They don't even disguise their sick plans!
In July 2016 importers couldn't import food to Yemen, because more than $260 million of their credit couldn't be transferred to foreign bank accounts.
In turn the traders must ship the money in cash to the food seller (for example by plane) to purchase food:
http://www.reuters.com/article/us-yemen ... SKCN0ZU0F2
In December 2016 wheat imports to Yemen were simply stopped due to a "crisis" at the Yemen Central Bank. They can't import because it has "no access to foreign reserves at all":
http://www.reuters.com/article/us-yemen ... SKBN1450H6
USA – from Obama to Trump
Saudi Arabia uses US-supplied white phosphorous munitions in Yemen, probably against civilians:
https://www.washingtonpost.com/news/che ... 9db4973beb
The following picture shows a remnant of a wing that was part of a 500-pound bomb found at the Arhab water drilling site, Sanaa governorate, where at least 31 civilians were killed in an airstrike on 10 September 2016. It was produced by US defence contractor Raytheon in October 2015:
https://www.democracynow.org/images/hea ... mnants.jpg
Shortly after Trump was inaugurated as president, US drone strikes killed 3 alleged Al-Qaida operatives in Yemen. Mwatana, one of Yemen's human rights groups, released a documentary on civilian victims of drone strikes. It cited hundreds of killed innocents by US strikes since 2002:
https://www.theguardian.com/world/2017/ ... CMP=twt_gu
In March, Navy Capt. Jeff Davis told reporters that US airstrikes have targeted "terrorists" over the "last month":
U.S. forces will continue to target AQAP militants and facilities in order to disrupt the terrorist organization's plots, and ultimately to protect American lives
http://krqe.com/2017/03/03/pentagon-mor ... -thursday/
Erik Prince is best known for founding Blackwater (which has been renamed Xe Services), which had a shoot first, ask questions later when the democracy and freedom was brought to Iraq.
These days Erik Prince is making hundreds of millions of dollars with his new company Reflex Responses (R2) by training mercenaries for the UAE (used in the war against Yemen).
Mr. Prince made the deal worth $529 million with Sheik Mohamed bin Zayed al-Nahyan, the crown prince of Abu Dhabi and de facto ruler of the UAE:
http://www.nytimes.com/2011/05/15/world ... rince.html
From February 28 till the beginning of April 217, the US military carried out 70 airstrikes on Yemen, according to experts double the total for 2016.
The strikes were mostly carried out by drones and targeted: fighters, infrastructure, fighting positions and equipment.
According to Pentagon spokesman Capt Jeff Davis:
We continue to target Al-Qaeda in Yemen, and this is done in the interest of disrupting this terror organisation that presents a very significant threat to the United States.
(…)
Since February 28, we've conducted more than 70 precision airstrikes against AQAP militants' infrastructure, fighting positions and equipment.
Davis said the strikes were targeting Al-Qaeda in the Arabian Peninsula (AQAP), the supposed most lethal branch:
http://www.independent.co.uk/news/wo...-a7666676.html
Jared Kushner, President Trump's son-in-law and senior adviser, picked up the phone during a meeting with Saudi officials and called the chief executive of Lockheed Martin, Marillyn A. Hewson, over a $110 billion arms deal with Saudi Arabia.
In the last months of his presidency, President Obama put a hold on precision-guided munitions for the Saudis, because they were concerned over the bad press that they would be used to bomb civilians in Yemen. The Trump administration has freed up those weapons for more terror...
Lockheed Martin has a long history of bribing government officials …
According to current and former officials this doesn't raise legal issues:
https://www.nytimes.com/2017/05/18/worl ... -news&_r=2
Britain
British Defence Secretary Michael Fallon answered questions about Britain selling arms to Saudi Arabia that are used against Yemen with:
The government's view is absolutely clear, that what Saudi Arabia is entitled to do is to defend itself from these attacks across its own border. It's had—its cities in the south of Saudi Arabia have been shelled by the Houthis. It's perfectly entitled to defend itself. And it's also leading the coalition to restore the legitimate government of Yemen.
In January 2016, Saudi Arabian foreign minister Adel al-Jubeir had a meeting with British ministers and US secretary of state, John Kerry. After this meeting Jubeir told reporters not to worry about violations of international humanitarian law, because British and American military officials are in the command and control centre for Saudi airstrikes on Yemen.
Jubeir said that Saudi Arabia's partners are satisfied with the protection of civilians. He used comments by British minister Philip Hammond, who the same week told parliament that British officers are working with the Saudi military to make sure they don't violate international humanitarian law.
According to the UK Ministry of Defence: British forces are in the operation room to provide training and advice "
on best practice targeting techniques to help ensure continued compliance with international humanitarian law
".
This really confirms that the attacks on Yemen are according to the master plan of these psychopaths...
The Campaign Against the Arms Trade (CAAT) has started legal proceedings against the UK Department for Business, Innovation and Skills, which has approved export licences for the weapon sales to Saudi Arabia, accusing it of failing to prevent violations of international humanitarian law.
Britain has sold some £5.6bn in arms exports over the last 5 years:
https://www.theguardian.com/world/2016/ ... ikes-yemen
According to Reuters in 2015 it was France that sold the most weapons to Saudi Arabia worth $18 billion, while the USA "only" sold $5.9 billion and Britain $4 billion:
http://www.reuters.com/article/us-yemen ... SKCN10X1MM
When the UK secretary of State for International Trade Liam Fox was having doubts about authorising export licences for arms to Saudi Arabia. On 8 November 2016, UK foreign secretary Boris Johnson sent Fox a letter:
I am aware you have deferred a decision on four export licence applications to supply the Royal Saudi Air Force with equipment which could be used in the conflict in Yemen (...) The issue is extremely finely balanced, but I judge at present the Saudis appear committed both to improving processes and to taking action to address failures/individual incidents (...) the clear risk threshold for refusal … has not yet been reached.
After this letter Fox swiftly approved the arms sales to Saudi Arabia:
https://www.rt.com/uk/376974-boris-john ... i-weapons/
Boris Johnson was part of the infamous Bullingdon club at the same time as Nat Rothschild and David Cameron…
The Netherlands
Naturally my home country the Netherlands is also involved in this clear example of genocide.
There is information (from a report from 2015) that arms are sold from or shipped through the Netherlands to countries involved in the war against Yemen.
The Netherlands is involved in (lots of) exports to the United Arab Emirates (UAE).
Components and grenades in 2006, 2013, 2014.
Components of radar- and radar fire control systems in 2004, 2005, 2006, 2007, 2014.
Components of rocket launchers in 2009.
Ammunition in 2010, 2012, 2013, 2014.
Components for guided projectiles in 2012.
Parts and components for F-16 fighter jets in 2014.
Armoured cars in 2014.
Naval equipment for Sea Sparrow Canister in 2014.
To Saudi Arabia.
Components of F-15 fighter jet engines in 2007.
Components of military communication systems in 2007.
Communication systems in 2008, 2009.
Communication systems for tanks in 2009 (more orders expected).
Portable surveillance radars in 2009.
Components of armoured vehicles in 2010.
Components for Typhoon and F-15 fighter jets in 2013.
Armoured Lexus LX570 in 2014.
To Jordan.
F-16 fighter jets in 2009.
Armoured vehicles in 2010.
M109 Howitzer tanks in 2010.
Ammunition in 2010, 2013, 2014.
Armed armoured vehicles in 2013, 2014, 2015.
Maverick air-ground missiles and supplies for F-16 in 2015.
DAF trucks and DAF components in 2015.
More arms planned to be delivered in April 2016.
To Egypt
Armoured cars in 2005.
Guided anti-tank weapons in 2005.
Components of radar fire control systems in 2006, 2007, 2008, 2009, 2012, 2013, 2014, 2015.
Guided projectiles in 2006.
Thermal imaging cameras in 2008.
Components for armoured vehicles in 2009.
To make it more easy for the arms dealers in most cases the Netherlands doesn't require transit license requirements; if they originate or have as destination Australia, Japan, New Zealand, Switzerland or any Member State of the European Union or NATO:
http://www.oxfamnovib.nl/Redactie/Pdf/Y ... 202015.pdf
Of course the wonderful Kingdom of the Netherlands wouldn´t refuse aide to Yemeni refugees…
Over the past 5 years, a total of 3845 people from Yemen applied for asylum in the entire EU, 150 of which in the Netherlands. This is very small compared to the huge numbers of Poles, Syrians, Germans, Russians, Indians, Chinese, British, Americans, Italians or Turks that come to the Netherlands...
When the armed conflict in Yemen broke out in 2015, the Dutch state secretary of justice decided to suspend decision making in Yemenite asylum cases, by declaring a so-called "moratorium".
This "moratorium" means that asylum seekers have to stay in asylum reception centres indefinitely, so they never get a legal staying permit. These asylum centres are not fit for sheltering people for the 18 to 24 months that Yemenite asylum seekers have been forced to remain there:
http://thomasspijkerboer.eu/thomas-blog ... -in-yemen/
European Union imports migrants, but no Yemenis
From 2014 on the number of asylum applications in the EU is at a peak: In 2014 it reached 626,000 and in 2015 even doubled to a whopping 1,255,640 first time asylum applications…
The bizarre thing is that almost no refugees from Yemen reach the EU.
All in all, when compared to the famine, and bombing, there is only a small amount of refugees that have escaped Yemen.
About 170,000 people have fled Yemen so far (written in March 2016), mostly to Djibouti, Ethiopia, Somalia and Sudan (and even Saudi Arabia). This is "small" compared to the millions that have escaped Syria, where the humanitarian drama isn't as bad.
Most of the escapees are not Yemenis, but returning foreigners. The United Nations expects another 167,000 departures in 2016:
http://www.reuters.com/article/us-yemen ... SKCN0WB0IL
The small amounts of Yemenis that do reach the EU are put in an impossible situation...
In September 2015, the EU agreed upon a plan, under which refugees (mainly from Syria, Iraq and Eritrea) be distributed around Europe to relieve the burden on the frontline states of Italy and Greece.
Of the agreed upon 160,000, in May 2016 only 1,441 were moved, while some European states are contesting the proposal.
Yemenis are not in the top 30 nationalities seeking asylum in the EU in 2015. More than a quarter that apply for asylum are denied.
The 20-year-old Yemeni Waleed al-Shaibani arrived in Greece and then applied for asylum in Poland. Poland initially accepted him, but after having to wait for 2 months in Greece, Poland suspended the refugee programme, and refused to accept Waleed.
Then he asked the Greek asylum service to be relocated elsewhere, but was informed that Yemenis were no longer eligible for the programme.
Waleed remained in Greece, but in desperation Waleed wants to return home to Yemen:
We went to the IOM and asked if they can repatriate us, but they said they cannot because it's not safe.
So our country is too dangerous for them to send us back, but not dangerous enough for Europe to accept us.
The International Organization for Migration (IOM) confirmed to Al Jazeera that they do not organise voluntary returns to Yemen, as it is not considered safe:
http://www.aljazeera.com/indepth/featur ... 21443.html
Sometimes I can't really tell the difference between genocide and fighting terrorism.
I read in lots of articles that it's the Saudi led coalition that's committing war crimes against Yemen, violating international humanitarian laws. It looks like Saudi Arabia is committing genocide in Yemen on the orders of Britain and the USA. In this way Britain and the US can claim they're not responsible for the starvation of Yemen.
Or maybe it are (the people who control) the United Nations, World Bank and IMF, who enjoy this slaughter...