There are currently "peace talks" in Sweden...
These talks are led by Special Envoy of the genocide supporting United Nations, Martin Griffiths.
It looks like the most important action by Martin Griffiths is to pressure the Houthis to leave Hodeidah. Not suprising as the terrorist UN has so far only condemned the Houthis...
The Houthis for some reason aren't allowed to tell their side of the story.
In stories like the following, from the "reputable" Reuters, the Houthis are made to look as the "bad guys" because they are inflexible and don't agree to hand over Hodeidah like the UN tells them:
https://in.reuters.com/article/yemen-se ... NKBN1O61F0
Griffiths at these talks doesn't tell the Britain-led coalition to immediately stop the bombing of civilian targets, like: school buses, hospitals, energy infrastrucure, drinking water supplies, fishing boats, agriculture land and food markets...
How many Yemenis have died so far, at 1 child dying every 5 minutes, more than 2000 die every week (besides the more than 58,000 dead Yemenis that died directly from the bombs). I think 400,000 dead Yemenis is a reasonable estimate...
There are also no plans to stage elections in Yemen, with more than 1 candidate preferably, as the so-called "internationally recognised" president isn't supported by the Yemen population.
Maybe some political experts can explain that it's democratic that the terrorist UN decides who becomes president instead of the population.
I think that this is a good moment to give some attention to Martin Griffiths... who's from Britain.
Griffiths is the executive director of the Brussels-based European Institute of Peace (EIP) – you have to understand "peace" in an Orwellian way to understand what kind of "peace" Griffiths works for.
He has earlier supported genocidal campaigns for the UN in Syria, Afghanistan and Libya, making sure that there came no peace or improvement of life for the population:
https://www.middleeasteye.net/news/who- ... 1120969214
Here's Martin Griffiths.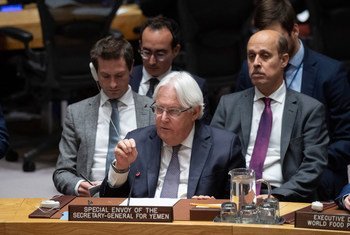 Last month, US Congressmen tried to get some media attention with a new resolution to supposedly "limit" the US support for the genocide by the "coalition". The resolution was rejected.
At least 5 of the 37 Republican senators that voted against the resolution - Tim Scott, John Boozman, Roy Blunt, Richard Burr and Mike Crapo - got some of that sweet Saudi money in 2016 and 2017 (nothing on the UAE!).
It is estimated that Saudi Arabia spent around $27 million on lobbying in 2017:
https://www.presstv.com/Detail/2018/11/ ... nal-Policy
Here's a compilation of pictures with starving Yemeni kids...