Since August 2016, I've posted about Jeffrey Edward Epstein. I finally start a seperate thread on this paedophile.
Epstein has sexually abused large numbers of under-age girls and even had a stable of child prostitutes (as young as 12 years old) to serve his wealthy friends with similar sexual preferences. Epstein is a billionaire and (former) member of the Council on Foreign Relations and Trilateral Commission.
After a yearlong investigation that started in 2005 20 girls testified they were sexually abused between the ages of 14 and 17 by Jeffrey Epstein. Epstein served a total of 13 months in prison: he was out on "work release" up to 16 hours a day for 6 days a week, so only in for the nights.
Donald Trump is a very good friend of Jeffrey Epstein...
The underage Virginia Roberts had been "recruited" at Trump's Mar-a-Lago in Miami by Ghislaine Mawell, Epstein's girlfriend, who ran the paedophile sex ring with Jeffrey.
When Jeffrey Epstein during his trial in 2010 was asked if he had ever socialised with underage "females" with Donald Trump, he pleaded the fifth:
Q - Have you ever socialized with Donald Trump in the presence of females under the age of 18?
Epstein - Though I'd like to answer that question, at least today I'm going to have to assert my Fifth, Sixth, and 14th Amendment rights, sir.
In 2000, Prince Andrew arrived in Florida to meet his good friend Epstein on Trump's private plane. Epstein, Maxwell, Andrew and Trump were hanging out together that year at Mar-A-Lago.
See the photo of Prince Andrew, Roberts and Maxwell in London in 2001, when Roberts was only 17.
Trump only "cut ties" with Epstein a few weeks after Epstein pleaded guilty to paedophilia in September 2007:
https://news.vice.com/article/the-salac ... ll-clinton
(archived here:
http://archive.is/X4pyC
)
"Katie Johnson" (not her real name) in federal lawsuits accused Donald Trump and his billionaire friend Jeffrey Epstein, of raping her when she was only 13 in New York City in 1994. "Katie" alleged also that the two men raped the 12-year old girl "Maria".
Katie's allegations have been confirmed by a witness...
Her attorney dropped the case.
"Maria" was abducted from Waterbury, Connecticut on 19 March 1993 when she was 11.
She ended up at "parties" at a midtown Manhattan townhouse owned by Epstein's billionaire friend Les Wexner where underage girls were allegedly sexually assaulted by Trump and Epstein:
https://www.justice-integrity.org/1456- ... aria-story
According to Claude Taylor, "Maria" is not her legal name but she is alive and has given a camera interview to a major broadcast network. That network is holding the interview for "legal reasons".
In the interview she confirmed facts as laid out by "Katie" (and "Tiffany"). She was sexually assaulted by Donald Trump and her life and her family's life were threatened by Donald. This is subject of an ongoing criminal investigation. "Maria" remains in hiding:
http://web.archive.org/web/201712231944 ... e-talking/
Epstein and Maxwell were often socialising (and recruiting girls) at Trump's Mar-A-Lago (pictures of Trump and Epstein were completely blocked by internet "search" engines before the 2016 presidential election).
According to braindead Trump-fans Donald expelled Epstein from the Mar-a-Lago in 1999, after Epstein was caught trying to seduce an underage girl. See Donald, Melania, Jeff and Ghislaine Maxwell, Mar-a-Lago, 12 February 2000.
Virginia Roberts has testified that she also had sex with Zionist lawyer Alan Dershowitz on behalf of Epstein and that the FBI has caught her on tape.
Dershowitz was once introduced by Trump's good friend Lynn Forester (these days "Lady" de Rothschild) to Epstein.
See Lynn Forester, Andrew Stein (who Lynn married), and Donald Trump.
Roberts claims to have been groomed by (daughter of British newspaper tycoon Robert Maxwell) Ghislaine Maxwell.
Epstein was also good friends with the family Clinton and has claimed that he co-founded the "philanthropic" Clinton Foundation, but after Epstein was convicted as a sex offender, the Clintons (like Trump) suddenly never knew him:
http://web.archive.org/web/201701240217 ... oundation/
The following pages are from the probable cause affidavit of the Palm Beach police shows that Epstein had sexual intercourse with and inserted vibrators into underage girls as young as 14.
If I understand correctly, the parents of the following 14-year-old girl started the investigation.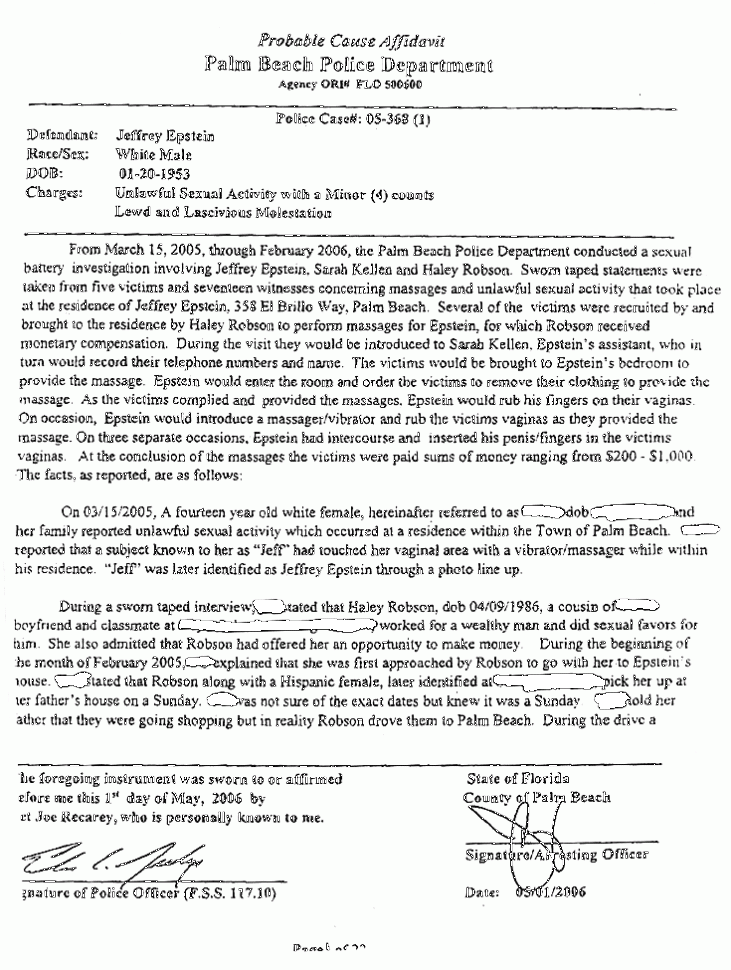 Here are the statements of another abused girl.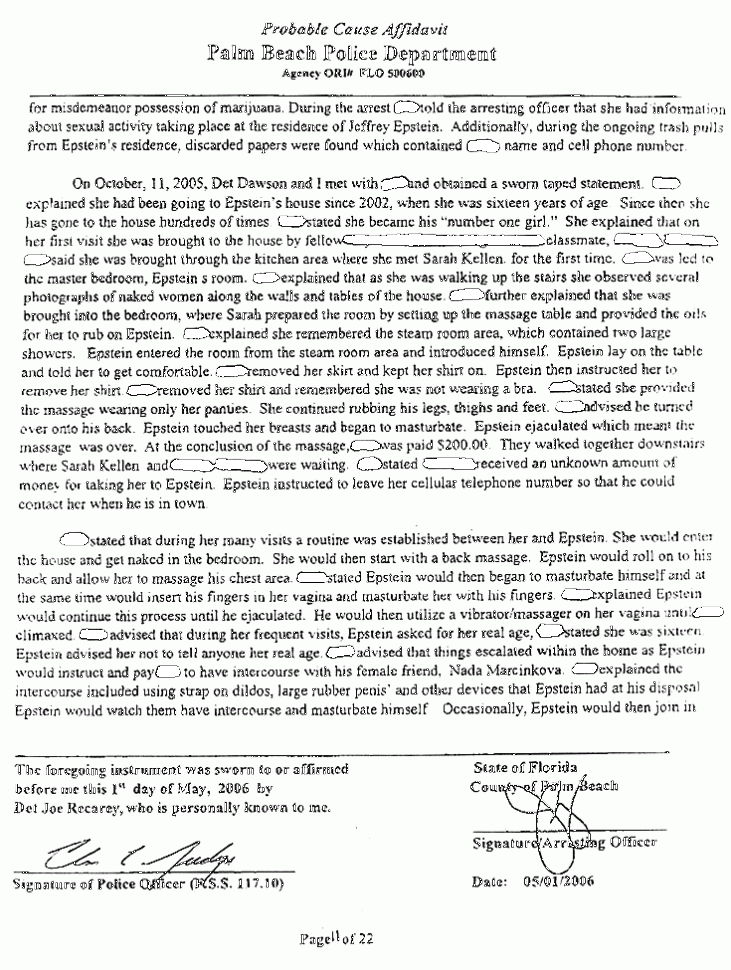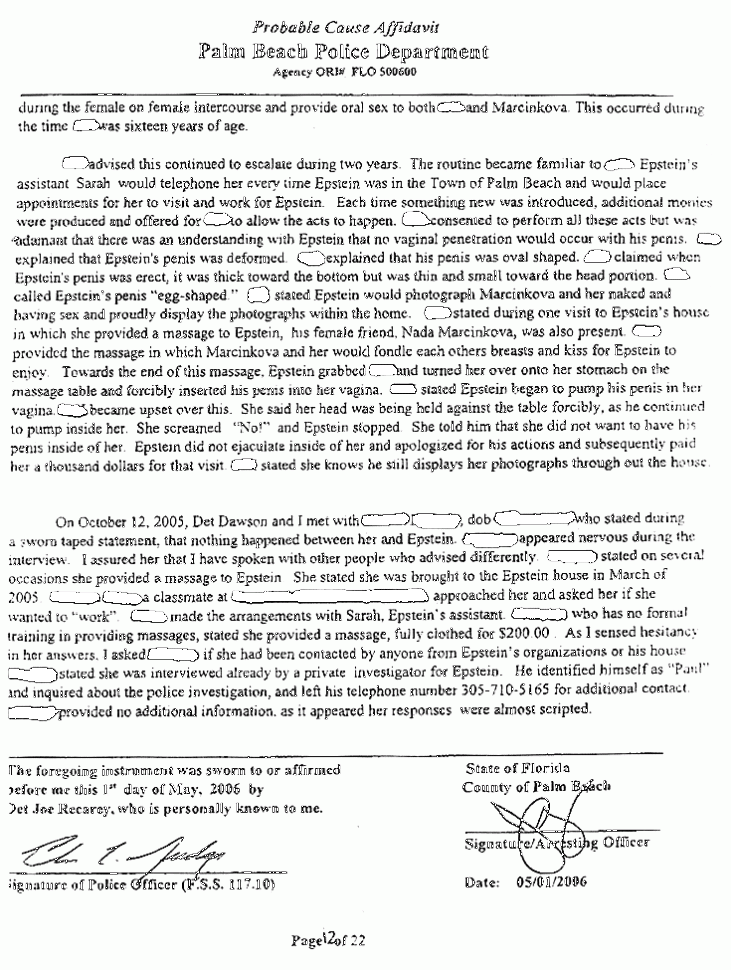 With the conclusion.
You can read the full probable cause affidavit by changing "2.gif" in the following URL to "3.gif" until "23.gif":
http://thesmokinggun.com/sites/default/ ... stein2.gif
Unfortunately we can't ask the butler of Jeffrey Epstein, Alfredo Rodriguez, for more information who died in December 2014 of "mesothelioma" after he had been locked up in jail for trying to sell Epstein's "little black book" to the highest bidder (what a horrible offence...).
He was locked up for 18 months, longer than Epstein, and wasn't out on work release for 6 days per week:
https://www.dailymail.co.uk/news/articl ... grave.html
In the spring of 1989, Robert Maxwell and his daughter Ghislaine hosted a party on his yacht in the presence of Donald Trump, former US senator John Tower (involved in Iran-Contra), and ex-navy secretary John Lehman.
See Donald showing his thumb, John Tower to his right and Robert Maxwell on the far right:
https://www.newspapers.com/clip/9383143 ... axwell_on/
In 1953, after leaving the CIA, Samuel Cummings reportedly founded Interarms (a.k.a. International Arms Corporation or Interarmco) in Alexandria, Virginia which sold $80-100 million worth of guns and ammunition to dictators, despots, revolutionaries and counter-revolutionaries.
Cummings made millions from the apartheid regime in South Africa, the United States, Britain, Austria, France, Indonesia, Malaysia, Singapore, Thailand, Israel, and other nations in the Middle East and Latin America.
In 1950, Cummings began his career by joining the Central Intelligence Agency. For four years, Cummings was the CIA's most cunning arms dealer. He snapped up $100 million worth of cheap German arms and sold them to Chinese Nationalist forces in Taiwan.
In 1954, the CIA staged a coup in Guatemala and used Cummings to arm the new Government.
Later that decade, Cummings sold arms both to Cuban dictator Fulgencio Batista and his successor, Fidel Castro.
The reported world's biggest small-arms dealer, Sam Cummings, died on 29 April 1998 in Monaco:
https://unblinkingeye.com/Guns/Interarms/interarms.html
(
http://archive.is/vbXTL
)
According to Valmore J. Forgett, in March 1958, deactivated guns (for which government records were destroyed) from Raritan Arsenal, were purchased with CIA funds through a New York City-based CIA (CIA) front, Regent International Limited.
These guns were then shipped to Florida where they were illegally reactivated by the CIA and finally shipped to Fidel Castro's Communists for the Cuban coup.
Forgett's associate in the machine gun business was none other than Sam Cummings:
https://www.smallarmsreview.com/display ... icles=3177
(
http://archive.is/KvowI
)
The story gets even better…
In reality Interarms was set up and controlled by the First and Citizen's National Bank of Alexandria that was owned by Albert V. Bryan, Jr. and his family since 1864. Bryan coordinated this operation with the Washington Post, CIA, and British Defence Ministry.
Bryan's bank put up the money to buy half a million rifles from Argentina, and more rifles from the British War Ministry.
The first big Interarms CIA project was arming Cuban revolutionary Fidel Castro. The Agency for International Development took the arms, rifles, machine guns, and ammunition from Alexandria to Andrews Air Force Base in Maryland for shipment to Central and South America, for untraceable delivery to Cuba. After Castro seized power, Interarms armed his government openly, until Castro publicly became an enemy of the US government and Interarms supplied the Cuban exiles for the Bay of Pigs invasion (which of course did nothing to harm Castro's popularity).
In contrast to the official story, Bryan's Interarms company also armed Libyan leader Muammar al-Gaddafi for the coup in Libya. In 1976-77, when George Bush Sr. was CIA director, CIA employees under Edwin Wilson trained and armed Gaddafi's terrorists and assassins, in North Africa, Europe, and in Virginia.
CIA man Frank Terpil, a top Gaddafi supplier, was arrested in England on his arms dealings with the Interarms company. The CIA claimed that the Gaddafi operation was "unauthorized"; and now Gaddafi was "like Hitler".
From 1979 to 1986, Albert V. Bryan, Jr. had become a judge at the top-secret Foreign Intelligence Surveillance Court operated by the Justice Department, "legalizing" wiretaps and mail intercepts within the United States.
Judge Albert V. Bryan, Jr. also sat on key parts of Frank Terpil's case.
The same Albert V. Bryan, Jr., as Federal Judge, jailed US whistleblower Lyndon LaRouche and 6 associates on trumped up "conspiracy" charges:
https://larouchepub.com/eiw/public/1990 ... ran_gu.pdf
Now the story turns into something of a genuine "conspiracy"...
Senator John Tower was in Paris for the infamous 19/20 October 1980 meetings in Paris between George Bush Sr. and representatives of Ayatollah Khomeini.
See the 1988 FBI memo about allegations that Senator Tower had been negotiating with the Khomeini regime in 1980 on supplying Iran with replacement parts for planes.
John Tower was married to none other than Samuel Cummings's sister, Lilla Burt Cummings.
Representative Tower helped the Interarms company in their arms deals.
Who do you think President Reagan selected in 1986, for a commission to "investigate" the so-called Iran-Contra affair?!? John Tower...
In 1989, Tower was nominated for Secretary of Defense by President Bush Sr., rejected by the US Senate!
Frank Sturgis bought large numbers of weapons through Interarmco for Fidel Castro. According to Sturgis' testimony before the Rockefeller Commission, he learned that Interarmco's "owner", Sam Cummings, was a CIA agent.
https://www.muckrock.com/news/archives/ ... ntra-cove/
(
http://web.archive.org/web/201907210044 ... ntra-cove/
)
Some of the interesting names in the little black book of Jeffrey Epstein…
Donald Trump (several phone numbers); Ivana Trump; Ivanka Trump;
Evelyn de Rothschild; Jessica Rothschild (probably the daughter of Evelyn); Hannah Rothschild (probably the daughter of Jacob); Edouard de Rothschild (probably the son of Guy).
David Rockefeller; Peter Soros (nephew of George); Henry A. Kissinger; Rupert Murdoch;
White House; Alan Dershowitz; Ehud Barak; Tony Blair;
Duke of York (Prince Andrew); Duchess of York (Fergie);
Prince Bandar; Michel Prince of Yugoslavia; Princess Olga of Greece;
Peter Mandelson; John Paulson; David Koch:
https://s3.amazonaws.com/s3.documentclo ... dacted.pdf
While most celebrities did their best to not be seen with the disgraced Epstein, Ghislaine Maxwell continued her jet-set life.
See Ghislaine Maxwell with media mogul, friend of Jacob Rothschild and Donald Trump's daughter Ivanka and son-in-law Jared Kushner, Rupert Murdoch at the Fifth Important Dinner for Women hosted by Queen Rania Al Abdullah, Wendi Murdoch (Rupert's ex-wife) and Indra Nooyi, New York, September 2010.
See Ghislaine Maxwell at the 2010 wedding of Chelsea Clinton to a Goldman Sachs banker (Ivanka's brother-in-law, Josh Kushner, also worked at Goldman Sachs).
For anybody that prefers a video – Bringing down Jeffrey Epstein
https://www.youtube.com/watch?v=vGBPfl-MpPQ
https://vimeo.com/475180587
Andrew's big eared brother, Crown Prince Charles, was at the 2005 Florida wedding of Donald Trump with nude model Melania Knauss.
Hundreds of celebrities and celebrities and power brokers attended, including Bill and Hillary Clinton, Rudy Giuliani, Prince Albert of Monaco, Mayor of New York Bloomberg, Henry and Nancy Kissinger, Arnold Schwarzenegger, Harvey Weinstein and Abe Rosenthal:
https://stylecaster.com/throwbackthursd ... r-wedding/
(archived here:
http://archive.is/XBaSd
)
See Charles, Donald and Melania in 2005.