Since August 2016, I've posted about Jeffrey Edward Epstein. I finally start a seperate thread on this paedophile.
Epstein has sexually abused large numbers of under-age girls and even had a stable of child prostitutes (as young as 12 years old) to serve his wealthy friends with similar sexual preferences. Epstein is a billionaire and (former) member of the Council on Foreign Relations and Trilateral Commission.
After a yearlong investigation that started in 2005 20 girls testified they were sexually abused between the ages of 14 and 17 by Jeffrey Epstein. Epstein served a total of 13 months in prison: he was out on "work release" up to 16 hours a day for 6 days a week, so only in for the nights.
Donald Trump is a very good friend of Jeffrey Epstein...
The underage Virginia Roberts had been "recruited" at Trump's Mar-a-Lago in Miami by Ghislaine Mawell, Epstein's girlfriend, who ran the paedophile sex ring with Jeffrey.
When Jeffrey Epstein during his trial in 2010 was asked if he had ever socialised with underage "females" with Donald Trump, he pleaded the fifth:
Q - Have you ever socialized with Donald Trump in the presence of females under the age of 18?
Epstein - Though I'd like to answer that question, at least today I'm going to have to assert my Fifth, Sixth, and 14th Amendment rights, sir.
In 2000, Prince Andrew arrived in Florida to meet his good friend Epstein on Trump's private plane. Epstein, Maxwell, Andrew and Trump were hanging out together that year at Mar-A-Lago.
See the photo of Prince Andrew, Roberts and Maxwell in London in 2001, when Roberts was only 17.
Trump only "cut ties" with Epstein a few weeks after Epstein pleaded guilty to paedophilia in September 2007:
https://news.vice.com/article/the-salac ... ll-clinton
(archived here:
http://archive.is/X4pyC
)
"Katie Johnson" (not her real name) in federal lawsuits accused Donald Trump and his billionaire friend Jeffrey Epstein, of raping her when she was only 13 in New York City in 1994. "Katie" alleged also that the two men raped the 12-year old girl "Maria".
Katie's allegations have been confirmed by a witness...
Her attorney dropped the case.
"Maria" was abducted from Waterbury, Connecticut on 19 March 1993 when she was 11.
She ended up at "parties" at a midtown Manhattan townhouse owned by Epstein's billionaire friend Les Wexner where underage girls were allegedly sexually assaulted by Trump and Epstein:
https://www.justice-integrity.org/1456- ... aria-story
According to Claude Taylor, "Maria" is not her legal name but she is alive and has given a camera interview to a major broadcast network. That network is holding the interview for "legal reasons".
In the interview she confirmed facts as laid out by "Katie" (and "Tiffany"). She was sexually assaulted by Donald Trump and her life and her family's life were threatened by Donald. This is subject of an ongoing criminal investigation. "Maria" remains in hiding:
http://web.archive.org/web/201712231944 ... e-talking/
Epstein and Maxwell were often socialising (and recruiting girls) at Trump's Mar-A-Lago (pictures of Trump and Epstein were completely blocked by internet "search" engines before the 2016 presidential election).
According to braindead Trump-fans Donald expelled Epstein from the Mar-a-Lago in 1999, after Epstein was caught trying to seduce an underage girl. See Donald, Melania, Jeff and Ghislaine Maxwell, Mar-a-Lago, 12 February 2000.
Virginia Roberts has testified that she also had sex with Zionist lawyer Alan Dershowitz on behalf of Epstein and that the FBI has caught her on tape.
Dershowitz was once introduced by Trump's good friend Lynn Forester (these days "Lady" de Rothschild) to Epstein.
See Lynn Forester, Andrew Stein (who Lynn married), and Donald Trump.
Roberts claims to have been groomed by (daughter of British newspaper tycoon Robert Maxwell) Ghislaine Maxwell.
Epstein was also good friends with the family Clinton and has claimed that he co-founded the "philanthropic" Clinton Foundation, but after Epstein was convicted as a sex offender, the Clintons (like Trump) suddenly never knew him:
http://web.archive.org/web/201701240217 ... oundation/
The following pages are from the probable cause affidavit of the Palm Beach police shows that Epstein had sexual intercourse with and inserted vibrators into underage girls as young as 14.
If I understand correctly, the parents of the following 14-year-old girl started the investigation.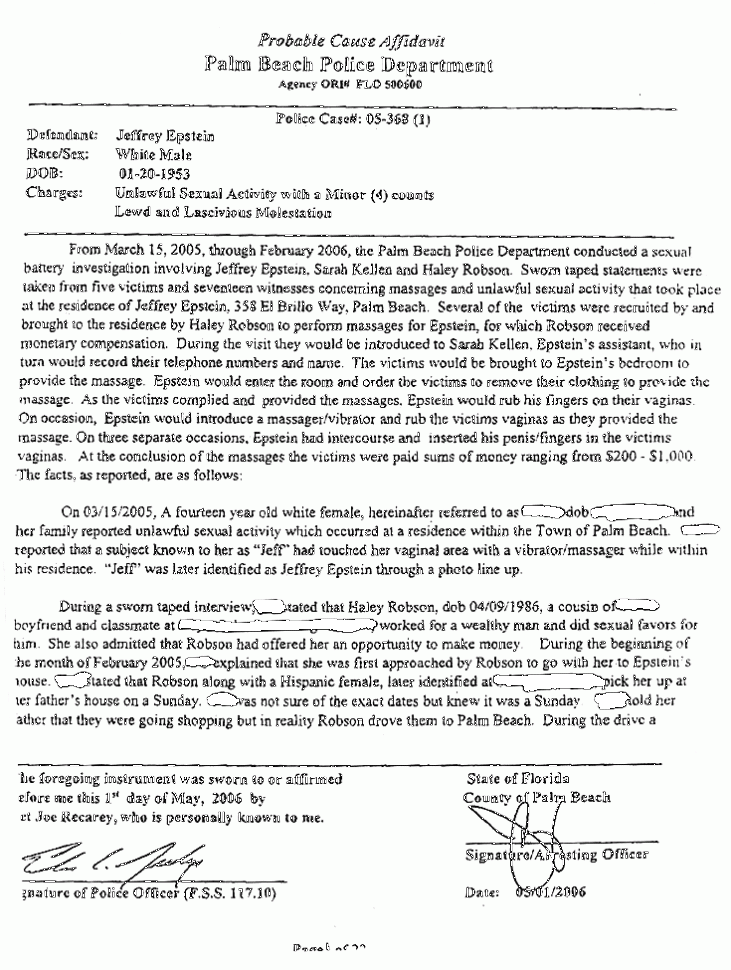 Here are the statements of another abused girl.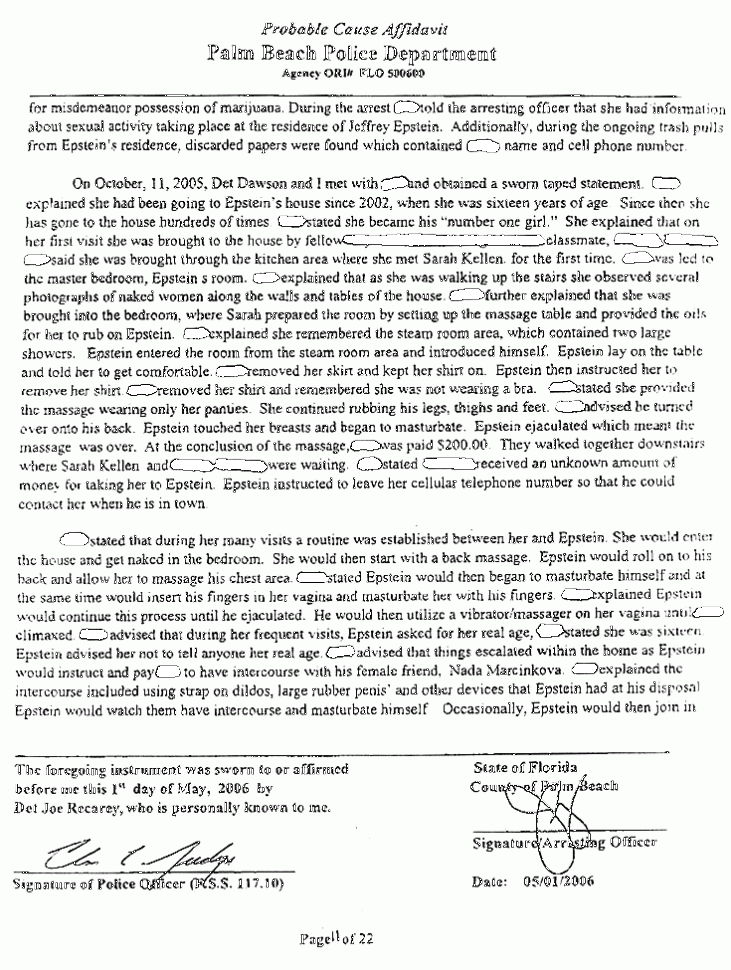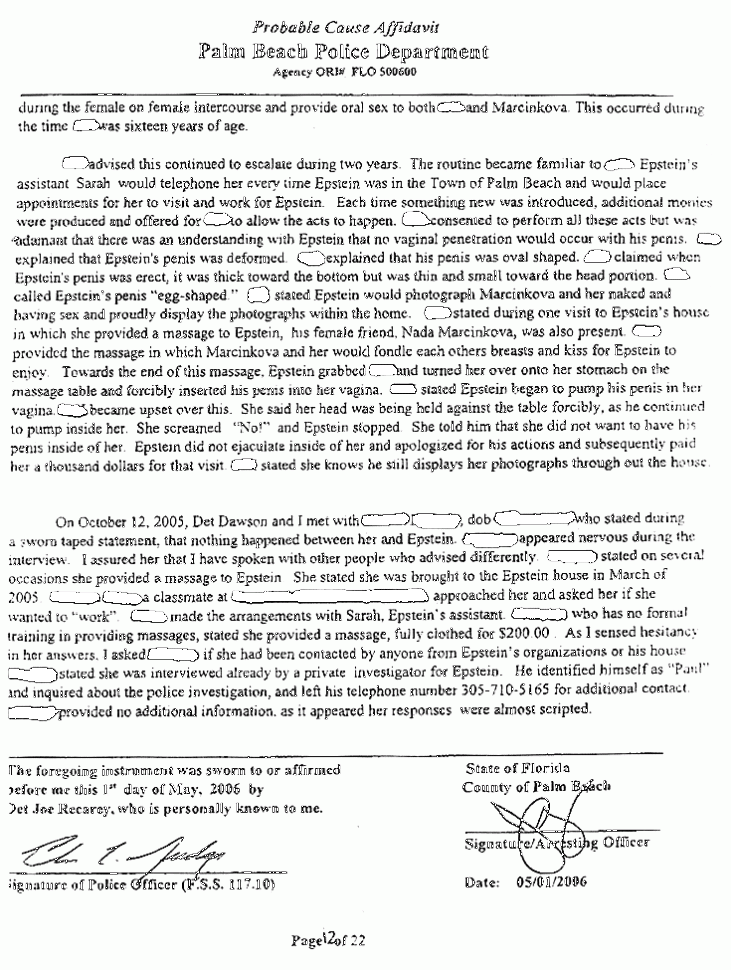 With the conclusion.
You can read the full probable cause affidavit by changing "2.gif" in the following URL to "3.gif" until "23.gif":
http://thesmokinggun.com/sites/default/ ... stein2.gif
Unfortunately we can't ask the butler of Jeffrey Epstein, Alfredo Rodriguez, for more information who died in December 2014 of "mesothelioma" after he had been locked up in jail for trying to sell Epstein's "little black book" to the highest bidder (what a horrible offence...).
He was locked up for 18 months, longer than Epstein, and wasn't out on work release for 6 days per week:
https://www.dailymail.co.uk/news/articl ... grave.html
In the spring of 1989, Robert Maxwell and his daughter Ghislaine hosted a party on his yacht in the presence of Donald Trump, former US senator John Tower (involved in Iran-Contra), and ex-navy secretary John Lehman.
See Donald showing his thumb, and Robert Maxwell on the far right:
https://www.newspapers.com/clip/9383143 ... axwell_on/
Some of the interesting names in the little black book of Jeffrey Epstein…
Donald Trump (several phone numbers); Ivana Trump; Ivanka Trump;
Evelyn de Rothschild; Jessica Rothschild (probably the daughter of Evelyn); Hannah Rothschild (probably the daughter of Jacob); Edouard de Rothschild (probably the son of Guy).
David Rockefeller; Peter Soros (nephew of George); Henry A. Kissinger; Rupert Murdoch;
White House; Alan Dershowitz; Ehud Barak; Tony Blair;
Duke of York (Prince Andrew); Duchess of York (Fergie);
Prince Bandar; Michel Prince of Yugoslavia; Princess Olga of Greece;
Peter Mandelson; John Paulson; David Koch:
https://s3.amazonaws.com/s3.documentclo ... dacted.pdf
While most celebrities did their best to not be seen with the disgraced Epstein, Ghislaine Maxwell continued her jet-set life.
See Ghislaine Maxwell with media mogul, friend of Jacob Rothschild and Donald Trump's daughter Ivanka and son-in-law Jared Kushner, Rupert Murdoch at the Fifth Important Dinner for Women hosted by Queen Rania Al Abdullah, Wendi Murdoch (Rupert's ex-wife) and Indra Nooyi, New York, September 2010.
See Ghislaine Maxwell at the 2010 wedding of Chelsea Clinton to a Goldman Sachs banker (Ivanka's brother-in-law, Josh Kushner, also worked at Goldman Sachs).
For anybody that prefers a video –
Bringing down Jeffrey Epstein
https://youtu.be/spkcvkgsoIg
Andrew's big eared brother, Crown Prince Charles, was at the 2005 Florida wedding of Donald Trump with nude model Melania Knauss.
Hundreds of celebrities and celebrities and power brokers attended, including Bill and Hillary Clinton, Rudy Giuliani, Prince Albert of Monaco, Mayor of New York Bloomberg, Henry and Nancy Kissinger, Arnold Schwarzenegger, Harvey Weinstein and Abe Rosenthal:
https://stylecaster.com/throwbackthursd ... r-wedding/
(archived here:
http://archive.is/XBaSd
)
See Charles, Donald and Melania in 2005.