It is interesting how the paedophilia in Hollywood, leads directly - by the trail of Brock Pierce - to the Clinton Foundation.
AN OPEN SECRET - DEN
Firestarter wrote:The 100 minutes documentary "An open secret" was released on November 14, 2014 and exposes the systematic sexual abuse of child actors (only boys) in Hollywood:

https://vimeo.com/142444429
The documentary "An open secret" focuses on the child sex ring around Digital Entertainment Network (DEN) that bought an estate in Encino, LA (the M & C estate) in 1997 where the young boys were forced to go into the hot-tub nude, joined by (naked) adult men. The most important story is told by Michael (Mike) Egans III that broke into the estate of DEN with some of the other victims (possibly Alexander Burton and Mark Ryan) to copy evidence.
The copied material proved that the sex ring was much larger than just the 3 (paedophiles) that fronted DEN: Marc Collins-Rector, Chad Shackley (in his mid-20s who had lived with Rector since dropping out of high school at 16) and Brock Pierce (a teenage actor who had appeared in Disney's The Mighty Ducks movies).
I needed some time to investigate the accusations of Egan against Bryan Singer (famous for directing "The Usual suspects" and X-men movies), Garth Ancier (television executive), David Neuman (Disney executive) and Gary Goddard (producer) – who invested in DEN. My conclusion is that there is sound evidence that these gays were present at parties where child actors were nude in the hot-tub, and given alcohol and drugs. Based on the testimony of Egan (and further evidence) I conclude that probably Singer sodomised Egan (and others), but I haven't looked into these other 3 (yet).
In the documentary "An open secret" (starting 00:46:45) Egan tells that Bryan Singer and Gary Goddard were regulars at the nude pool parties. He tells how Singer was naked with him in the hot-tub and set him on the lap of Goddard. It is also revealed (starting 1:10:17) that Marc Rector threatened the young boys with a gun while saying "do you not understand the power I have?"; if you talk, we will first destroy career and we have eliminated kids of 14, 15 year old.
The court awarded Egan and his fellow plaintiffs a $4.5 million default judgment, of which Egan only collected $25,000, while they reached a settlement with Pierce. Egan was the only one of the 3 plaintiffs that was a minor when the sexual abuse happened, so he should be entitled to the most money (of these 3). This doesn't surprise me a bit - remember Paul Bonacci that got locked up in prison for perjury and got nothing of the million dollars he won from Larry King (stabbed in the back by his attorney John DeCamp)?
Here's the official court document of July 2000 by plaintiffs Egan (officially his mother Bonny Mound), Alexander Burton, Mark Ryan against Rector, Shackley and Pierce:
http://www.hollywoodreporter.com/sites/ ... awsuit.pdf
Note that Hawaii is not mentioned in this document and it only focuses on the 3 defendants (Rector, Shackley and Pierce).
During a news conference on April 21, 2014, Egan's sobbing mother called out several FBI officials by name: Joseph Brine, J. Stephen Tidwell, David Johnson and Robert Mueller III. They had refused to investigate the charges that her underage son had been molested.
COLLINS-RECTOR, CHAD SHACKLEY, BROCK PIERCE – FLEE TO SPAIN
Firestarter wrote:Weiss, Villard and Rector-Collins were some of the paedophiles that were convicted on child abuse charges. Michael Egan filed charges against some of these paedophiles but later dropped them, which doesn't help his credibility. Egan was admonished by a judge for lying in court:

http://www.hollywoodreporter.com/news/b ... ase-699828
After a New Jersey grand jury indicted Rector in 2000, he fled the country with Shackley and Pierce. The trio resurfaced in May 2002 in Marbella (Spain). In a separate court case (not civil) Collins-Rector was sentenced to prison. In this case Egans wasn't even involved. After an international arrest warrant was issued Interpol raided their house and found guns, machetes and child pornography in. After fighting extradition for 2 years (during which Rector was in prison from May 2002 until October 2003) - Rector returned to the USA: spent a brief period in prison, made a deal and became a registered sex offender under weekly supervision. Here you can see the court ruling of October 6, 2004 that details the plea bargain for transporting minors across state lines for having sex with them; that concluded the immediate supervised release of Rector:
https://www.documentcloud.org/documents ... ncing.html
In 2006, Rector was granted "emergency permission" to leave for London, where in October 2007 the British paper The Sun ran an article that reported "
A millionaire paedophile from America is swanning around Britain in a chauffeur-driven limo and surrounding himself with young boys
". In England he asked for permission for a union with an 18-year-old boy.
MICHAEL EGAN - BRYAN SINGER
Here's the court document that was filed in June 2014 by (the attorneys of) Michael Egan against Bryan Singer:
http://s3.documentcloud.org/documents/1 ... -doe-2.pdf
Michael Egans states that he considered Marc Rector, Chad Shackley and Brock Pierce as the ring leaders of the child sex ring. He describes the before mentioned incident where Singer placed him on the lap of Goddard. He also swears that he was sodomised by Singer - both in the Encino estate as in Bryan Singer's home. Note that this doesn't mention any activity in Hawaii.
Egan isn't the only young man that has accused Singer of paedophilia: 1) In 1997, a 14-year-old actor accused Singer of having him and other minors nude for hours for a shower scene in "Apt Pupil", the lawsuit was dismissed for lack of evidence; 2) In May 2014, a British man accused Singer and producer Gary Goddard for sexually assaulting a minor in London for the premiere of "Superman Returns" (the charge against Singer – but not Goddard - was withdrawn):
https://fellowshipoftheminds.com/tag/ma ... ns-rector/
Openly gay 22-year-old Noah Galvin publicly accused Bryan Singer of molesting little boys:
Yeah. Bryan Singer likes to invite little boys over to his pool and diddle them in the f—ing dark of night. I want nothing to do with that. I think there are enough boys in L.A. that are questionably homosexual who are willing to do things with the right person who can get them in the door. In New York there is a healthy gay community, and that doesn't exist in L.A.
Galvin apologised a mere 9 hours after the interview came out:
https://unicornbooty.com/noah-galvin-se ... pologizes/
Following are some of the photos of Singer with young boys (I believe that most of the Singer "twinks" have just turned 18).
Here's Singer with Frankie Donjae that for a while was his favourite in New York.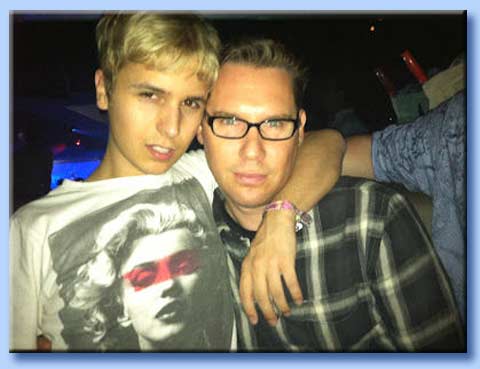 The following toyboy ("assistant" to Singer) looks even younger than Donjae, on the right side of Singer are Ian McKellen and Gary Goddard.
EGAN SET UP BY ATTORNEY – HAWAII AND PRISON
The attorneys of Egan told him that he couldn't files charges against Bryan Singer, Gary Goddard, David Neuman and Garth Ancier in California, but only in Hawaii. They didn't claim that these actions had happened in Hawaii, so this lawsuit didn't stand a chance and it was dropped. I've read on the internet that Egan accused Singer (and Rector and Shackley) of sexually abusing him at the Paul Mitchell estate in Kailua, Hawaii, but I didn't find the (original) source for this information.
To add injury to insult these lying, corrupt attorneys even made a public apology that the allegations are totally untrue. Garth Ancier filed countersuits against Egan and claims he was falsely accused:
http://www.hollywoodreporter.com/news/h ... ers-800601
In December 2015, Michael Egan was sentenced to 2 years in prison and a fine of $300,000 for a "
conspiracy to commit securities and wire fraud
". Egan sought money from investors for various projects. Egan lied about his background and used the money for his personal expenses. Isn't the whole idea of being an investor to take a chunk of it for yourself? If dishonesty is a reason for prison, than every lawyer, psychiatrist and second-hand car dealer should be locked up for life.
In October 2014 Egan was admonished by Judge John Michael Seabright after Egan falsely claimed in court to not have received assistance with his legal papers. Of course Egan is not the only one that has lied in court. This can be rightfully used to discredit him, but maybe he had promised this to the law firm that had helped him (Irvine's Manly, Stewart & Finaldi). This is absolute evidence that Judge Seabright is a corrupt criminal as it is irrelevant to the case whether or not Egan had gotten some legal help.
I can tell from personal experience that it's very difficult to defend yourself in a court of law when you're stabbed in the back by your own attorney:
http://archive.is/gYnER
The only lawyer that has made a public statement in defence of Michael Egan, after he was charged with these fraud charges, is Vince Finaldi. He said that even if these fraud charges are real "
it would surely not mean he was not abused. To the contrary, it would corroborate his abuse
":
http://www.hollywoodreporter.com/thr-es ... use-760741
BROCK PIERCE – CLINTON GLOBAL INITIATIVE
Brock Pierce is mostly ignored in all the stories about the sexual abuse. At 17, Pierce was making $250,000 a year from DEN (it is apparently quit profitable to run a child prostitute ring).
Brock Pierce's bio says he is co-founder of GoCoin, ExpressCoin, KnCMiner.cn and Robocoin Asia. He is described as "a prolific angel investor" who has raised more than $200 million on behalf of his companies and led more than 30 acquisitions during his career.
Pierce is also an active supporter of non-profit and advocacy organizations and is a member of
Clinton Global Initiative
. So here's another connection between the Clinton Foundation and a known paedophile:
https://en.wikipedia.org/wiki/Brock_Pierce
Here's Pierce when he was an ambitious child actor himself.