The Kingdom of the Netherlands proves over and over again that size doesn't matter; of course we were involved in this wonderful example of international justice – the destruction of Yugoslavia...
Yugoslavia under Tito was unique in the former Communist Eastern Europe because it didn't let the Soviet Union dictate their policy.
I wrote most of this in 2015, 2016; (unfortunately) a lot of it is still relevant.
Yugoslavian civil war – Soros, OSI and Mabel
The most important player in the civil war in Yugoslavia appears to be multibillionaire, Rothschild agent George Soros (born: György Schwartz).
After Soros by his Open Society Institute (OSI) started financing the revolution against Milosevic in 1991, already the same year Croatia, Macedonia, Slovenia and (in 1992) Bosnia declared their independence.
In 1991, Germany was the first to recognise the independence of Croatia and Slovenia, after which the United States declared Bosnia's independence in 1992.
The "independent" radio station B92 was financed by the OSI to broadcast anti-Milosevic propaganda.
Not only George Soros, who supported the Yugoslavian war since 1991, played an important role in genocide in Yugoslavia, but also the Dutch Mabel Wisse Smit.
In 1993, Mabel worked for the UN and quickly became a girlfriend of the Bosnian ambassador Mohammed Sacirbey (with an American passport, who was married at the time); a relationship that lasted until 1998.
In 1994, Mabel Wisse Smit, with support from Soros, founded the European Action Council for "Peace" in the Balkans to support the civil war in Bosnia. Also the "independent" radio station B92 was set up by Soros, Mabel and Co. to spread propaganda against Milosevic.
Co-conspirators in this wonderful display of democracy were the Dutch Willemijn Verloop and Phon van den Biesen. Mabel, Willemijn and Phon also established War Child Netherlands in 1995. Philanthropy to support the armed conflict, and then "help" traumatized children so much that they could never suffer any more trauma. Fortunately our press is deaf, dumb and blind or we should wake up and find out that our wonderful "freedom" is very similar to being ruled by a ruthless dictatorship.
In 1995 the (first) peace treaty was signed, that effectively ended the war. But because Milosevic was still in charge of Serbia, and Kosovo has great wealth in metal ore, they supported the campaign to "free" Kosovo, charging the Yugoslavian army with all kinds of war crimes against Kosovo. Then they ordered Milosevic to give freedom to Kosovo, knowing in advance he would never do this voluntarily.
Now the NATO had reasons to bomb the infrastructure of Serbia: trains, bridges, power plants, schools and hospitals (to make this world a better place - of course). All of the dead civilians by NATO were unfortunate accidents ((including bombs on schools and hospitals) but the murdered soldiers from Kosovo by the Yugoslavian army were war crimes.
In 1999 finally the bombing stopped by the (second) peace treaty giving Kosovo some kind of unclear partial independence:
http://www.globalresearch.ca/an-imperia ... 686?lang=1
NATO hasn't even concealed that they destroyed Serbia's infrastructure, but of course we all believe this was in the interest of the people in Yugoslavia, who were ruled by a ruthless democratically elected president
Mohammed Sacirbey was later suspected of embezzlement of $ 2.5 million as a UN ambassador, the USA didn't allow him to stand trial. He was also involved in the lucrative arms trade (money laundering) to Bosnia together with Mabel:
https://mightynose.wordpress.com/catego ... ody-hands/
Because of the completely destroyed infrastructure; Yugoslavia could not compete economically and the whole economy collapsed. The civil war killed hundreds of thousands people and resulted in more than one million refugees.
Apparently Yugoslavia had to suffer to get rid of that mean Milosevic so that they could become part of Soros' "Open Society".
Milosevic suicided
In his court case before the "independent" Yugoslavia tribunal; in March 2002 Milosevic presented FBI-documents to prove that the civil war in Kosovo was financed by Al Qaeda from the USA (at that time according to the state media Al Qaeda was the biggest enemy of mankind). Earlier Milosevic had given statements that the UN and NATO caused the civil war.
That horrible (democratically elected) Milosevic died on 11 March 2006 in his Dutch cell, one day after he wrote a letter that they were trying to poison him. The media claimed that he poisoned himself with Rifampicine which caused the heart attack, but never explained how he got this in his cell. The Croatian Milan Babic had died in his cell 6 days before Milosevic (an apparent suicide):
http://www.informationliberation.com/?id=7903
The Rothschild monopoly in Yugoslavia
The strategy has been used over and over again by the Rothschild crime syndicate.
First a war is financed.
Then countries are made into "democracies" (in our world that's upside down: effective dictatorships) with a friendly government.
After the crash of the economy (first the war and if necessary the government and World Bank, IMF help): the Rothschilds, and their henchmen buy companies pennies for dollars.
They lend "money" (that's easy to do when you have the "right" to print new money) to rebuild the country that was destroyed by the war.
They own the companies that rebuild the country, so once again they get back the money they have lent. So now they still have the money, own the economy, decide what government does and have the state indebted.
Of course, nobody can blame them for taking a nice profit of billions for all of their philanthropy.
BANKING SECTOR
The Metals Bank was purchased by JNR Limited (Jacob and Nat Rothschild Limited).
NM Rothschild is adviser to Slovenian banking group NLB Continental.
The largest banks in the region - Banca Intesa, Credit Agricole, Unicredit Group and Société General – are all controlled by the Rothschilds. Soros was sentenced for insider trading in France involving Société General (to make it more difficult to read, and in violation with the rules, the judgement by the ECHR under case nr. 50425/06 is not available in English...):
http://landdestroyer.blogspot.nl/2012/0 ... minal.html
The Rothschild Bank Société General bought the Montegrin banks of Podgorica and Ohrid.
The OTP group, where Rothschild stooge Shandor Chanyi calls the shots, has already bought 3 banks in Serbia: Kula, Nis and Zepter.
In Montenegro, OTP bought the Montenegrin Commercial Bank (Montenegro's largest bank):
http://www.truedemocracy.net/hj37/03.html
MINING
In Kosovo, the Carlyle Group and the International Crisis Group (funded by Soros, Rupert Murdoch, Goldman Sachs and J.P. Morgan) are active.
Rothschild's Riotinto own the mines near the Baljevac; also Glencore, controlled by Rothschild agent Mark Rich and Phelps Dodge (controlled by investments of the investment fund Atticus of Rothschild) is active in this region.
Russian multi-billionaire Oleg Deripaska (good friends with Nat Rothschild) owns RUSAL, bought the Montenegro aluminum company KAP. RUSAL bought the bauxite mines in Niksic by his partner Salamon.
Alferon bought Feroniki (including several mines for metal). Alferon is owned by 3 businessmen from Kazakhstan, associated with Rothschild. The head of Alferon is Johannes Sittard, who was the right hand of Lakshmi Mittal (who is partners in crime with Rothschild). Mittal invested 100 million dollars in Alferon.
Mittal Steel, together with the Russian state companies Juzuralzoloto and Zarubeznev, bought the iron ore mines of RZR Ljubija. In Bosnia, the Mittal group owns the iron plants in Zenica and in Serbia Mittal owns the mines in Ljubija. Mittal also bought the metal mines in Skopje in Macedonia.
Global Steel (owned by Pramod Mittal) used his Bulgarian daughter Kremikovici to buy Lamkos in Vucitrn (Kosovo), and in Leskovac: Lemind and Zastava Smithy.
The Mittal and Rothschild families are long-term partners in crime.
OIL
MOL is strategic partner of the state oil company Montenegro Bonus.
MOL has bought the Bosnian state oil company Energopetrol.
MOL is also active in Serbia.
The Hungarian oil company MOL is owned by Rothschild agent Shandor Chanyi.
DAIRY
Salford was founded in 2001 and these days has an (almost) completely monopoly of the dairy industry in Serbia, it controls: Imlek, Novi Sad Dairy, Subotica Dairy, Impaz, Zemun, Bambi, Banja Luka dairy and Knjaz Milos. Salford also owns Mlekoprodukt and Campomil in Bosnia.
Salford is an investment fund of Nat Rothschild, where Boris Berezovski is is the second man. Salford's director is Klaus Mangel, who sold Mercedes cars in Russia with Berezovski. Tim Bell is on the steering committee of Salford; Bell was an advisor to Margaret Thatcher and is friends with Berezovsky, Rupert Murdoch, Viktor Yuschenko and Boris Yeltsin.
The Ashmore fund took over Carnex. Ashmore is controlled by Michael Benson, previously of Amvescap, which was financed with funds from Attic.
Rothschild and Mittal founded FieldFresh Foods in 2004, which exports food from India to former Yugoslavia.
TELECOMMUNICATION
Wilbur Ross, a Rothschild bankster, works at Mittal and controls the Kosovar Alcatel BY Globaklstar LP.
Soros has a considerable amount of stocks in Stonebridge Communications, which controls the Macedonian MT. Blackstone is a major shareholder in Deutsche Telekom (T-Mobile), owned by the Hungarian Matav, which is the majority shareholder of MT. The Montegrin Monet is part of Deutsche Telekom. T-Mobile itself is Macedonia's second largest telecom company.
The Blackstone Group was founded in 1985 by Rothschildagents Peter George Peterson and Stefan Schwartzman (formerly of Lehman Brothers and Kuhn Loeb Inc). Blackstone is one of the (many) investments funds of Jacob Rothschild.
REAL ESTATE, CONSTRUCTION, PUBLISHER
Deripaska owns a significant share of the Austrian Strabag, which purchased Crnagoraput, which owns and buys an attractive location for (holiday) villas in Montenegro.
Peter Munk, manager of JNR Limited (R: Rothschild), through OTP bought the construction company Arsenal, which builds a large port in Tivat. Arsenal will also build the financial centers of Podgorica, Ulcinj and Budva.
The Slovenian publisher Mobtel is (by Mladinska knjiga) part of Rothschild's Readers Digest.
Most of the information on the financial interests of Rothschild in former Yugoslavia is from:
http://politicalvelcraft.org/2012/08/11 ... the-banks/
Soros the philanthropist
George Soros has bought a good name for himself by all the charity he pushes down our throats. His main charity is the Open Society Institute (OSI), which donates large amounts to "human rights". From 1997 to 2008, Mabel Wisse Smit had a key position in OSI.
Perhaps Soros's most important charity work is the Human Rights Watch (HRW), which he effectively controls, to impose human rights on the people (preferably using a corrupt legal system) after first financing the "revolution" (for the Rothschild family).
In 2010 it became known that Soros had donated $100 million to HRW in 10 years through OSI. Naturally he demands that HRW follows orders (Soros is also the main donor of Amnesty International).
Apart from Soros other interesting names on the donor list of HRW are the Rockefeller Foundation and the EHRM:
https://www.hrw.org/news/2010/09/07/geo ... ghts-watch
In 2004, the following Soros agents were part of the "European" Advisory Group for HRW (except Soros itself): Peter Osnos, Warren Zimmermann (former United Nations Ambassador to Yugoslavia), Barnett Rubin and William D. Zabel.
Also noticeable are the many CFR members: Joel Motley, Alice Henkin and Stephen Del Rosso (Morton Abramowitz was also an advisor):
http://web.inter.nl.net/users/Paul.Treanor/HRW.html
At the "independent" Yugoslavia Tribunal, we could see how this works. Soros provided this with equipment.
Evidence against Milosevic was brought to the court by HRW.
And Phon Van den Biesen represented Bosnia.
Mabel Wisse Smit
At the end of the 1980s, before Mabel married Prince Friso of Orange Nassau, and was working for the UN, she was the girlfriend of the Dutch drug lord Klaas Bruinsma (confirmed by Bruinsma's bodyguard Charlie da Silva on national TV).
Bruinsma was liquidated in 1991...
Amidst controversy in the Dutch press (then) Queen Beatrix didn't allow Mabel the title "Princess".
On 11 January 2003, Dutch movie director Theo van Gogh revealed that Quote magazine had learned that Mabel was working as a prostitute in the Yab Yum bar, when she first met Klaas Bruinsma (in Dutch):
http://www.theovangogh.nl/metro_7.html
Amidst rumours that Van Gogh was about to publish a book about the interesting history of Mabel, he was reportedly killed by a "Muslim extremist" in November 2004.
EDIT - For some reason the evidence was removed from the internet. I saved a copy on a USB-stick. Here it is:
Columnist Max Pam (NRC Handelsblad) aan de lijn: "Zeg, ik hoor dat Quote volgende maand gaat publiceren dat Mabel werkte in Yab Yum!"
"Van wie weet je dat?"
Pam: "Dat mag ik niet zeggen."
Ik word er zo moe van. Toch maar even de hoofredacteur van Quote gebeld.
Jort Kelder: "We hebben diverse bronnen die dat inderdaad bevestigen; dat ze Mabel in Yab Yum zijn tegengekomen en van haar diensten gebruik hebben gemaakt. Maar niemand wil geciteerd worden. Wij publiceren voorlopig niet."
(...)
Mocht Mabel inderdaad het oudste beroep ter wereld aankleven, ik buig voor haar; want juist wie op haar rug tot de hoogste toppen reikt, verdient onze eerbied.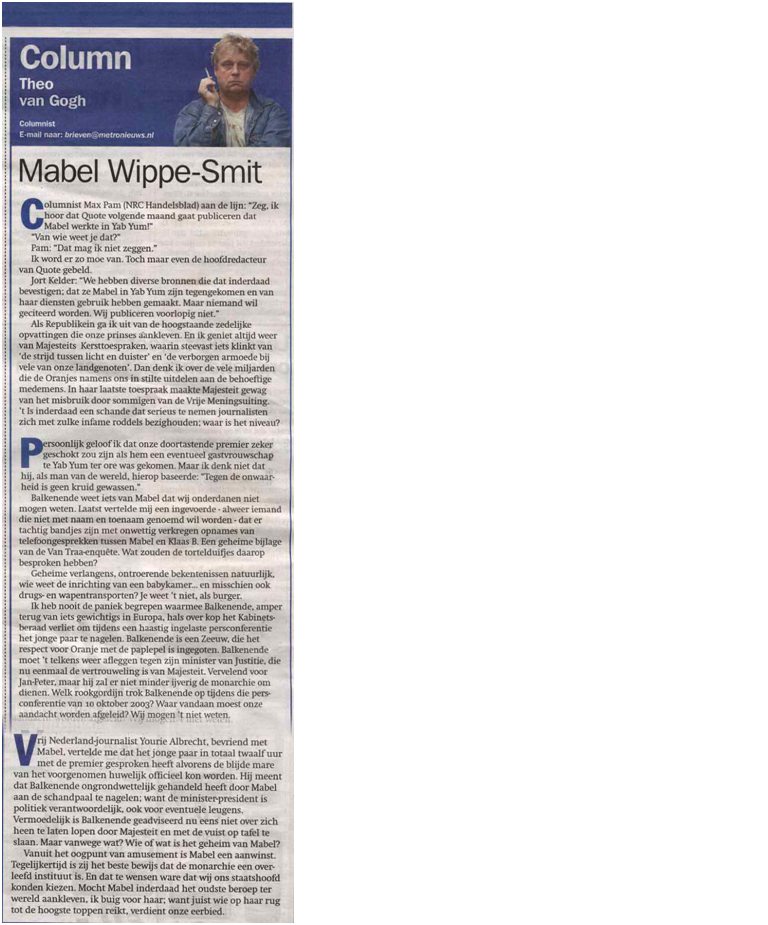 It's obviously quite dangerous to be friends with Mabel, the reported killer of Bruinsma was liquidated, and even Prince Friso died after a skiing accident and years in coma, although there are some rumours that Friso's death was faked (did he also escape to Argentina?).